How to Automate Social Media Posts: 17 Easy Tools to Make Life Easier
Written on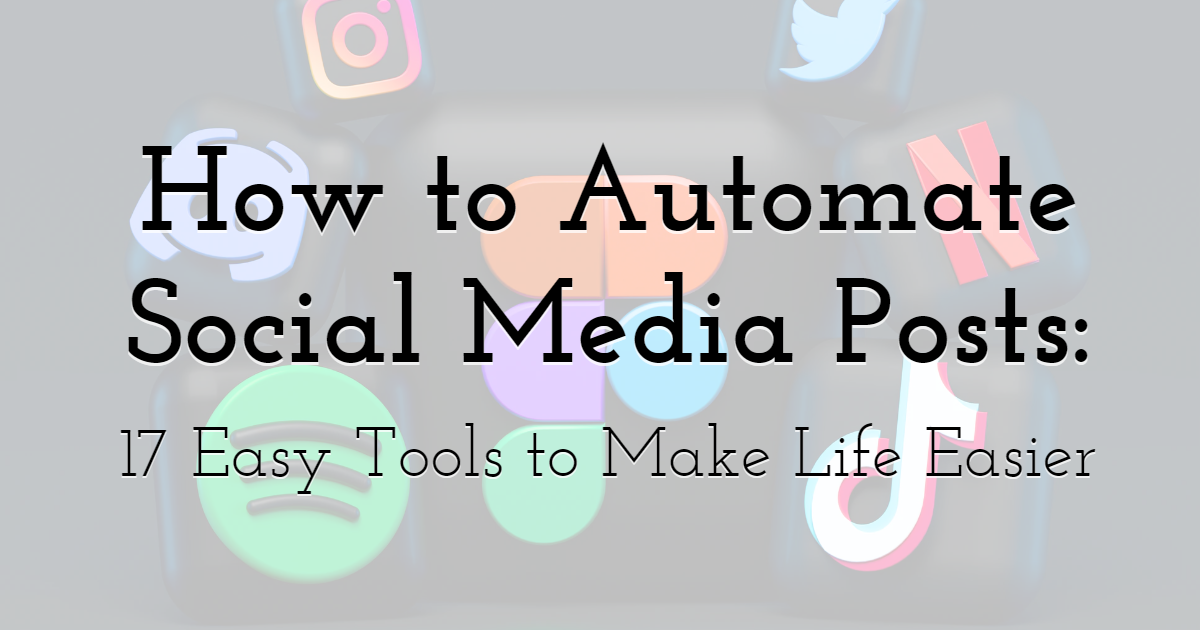 Design your own short videos with PixTeller animation editor & GIF maker
The world today is extremely fast-paced. You would be surprised to imagine what all can change within a blink of an eye. To be able to keep up with the expeditious transformations manually? Next to not possible. Therefore, automation.
The world of social media is no different. Everything is fast-paced, and opinions change every other day. People want something to hold on to, and if you fail to provide that with your content, you are in for failing your brand. But you can tackle all of this if you automate social media posts. Doing everything manually will just not cut it anymore. You need to remain on your toes and grab every opportunity you get to create viral content trends.
If you are a social media manager, you would know how easily you can get overwhelmed with being responsible for all the creating, sharing, and posting of content. Additionally, if you are someone who works with a team, the process gets only more difficult. To be able to tailor content for every social media platform and making sure everything goes out at the right time is very difficult with a team.
Social media schedulers can help you out here. They automate the entire process of content scheduling except for the part where you have to ideate the pieces. Top of the line social media scheduling tools will give you services that can catapult your business into popularity and high revenue figures.
What is a Social Media Post Scheduler?

A social media post scheduler or social media automation app is a digital service that enables you to create posts and set them for publishing at certain times.

These tools will let you schedule content of all kinds, be it images, videos, plain text, links, on multiple social media platforms. Most of these tools will allow you to schedule content beginning from 10 minutes to multiple months in the future. Many of them let you connect multiple social accounts at once, and then you can manage all of those via a single platform.
Why Should You Use a Social Media Post Scheduler?

You can be an individual managing social media or a company managing multiple clients. Regardless, a social media scheduling tool will make your life easier than you can estimate. Here are the reasons why you should use these tools:

• Retains Focus- When you have your content scheduled in advance for the day, you will not have to interrupt or disrupt other tasks that you have to perform on that day. You will be able to focus on tasks that are more important, like social media strategy building.


• Saves Precious Hours - Creating social media posts one at a time and every day would not result in the best of productivity. It can eat up more hours than required from your day. When you use a social media scheduler, you can upload content in batches or even in bulk. Your workflow will be streamlined,, and time management will be efficient.


• Encourages Prior Planning - If you have a habit of creating posts at the last moment or just when you have to post, you might never get encouraged to design posts in advance. This can affect your strategy building and ultimately not give you the ROI desired by you. With a scheduling tool, you will be able to prioritize planning and therefore increase your chances of success.


• Encourages Teamwork - One might think that using a social media scheduler would mean them going solo with all the work. However, this might not stand true in most cases. Today, most social media scheduling tools offer features that motivate and facilitate teamwork. You can streamline your workflows and track team progress too.



Here is the list of best 17 social media scheduling tools that will make your life easier:
RecurPost

A social media scheduler that can do it all? That would be RecurPost fellas! It is one of the best social media automation tools available in the market considering the price point and plan value offered by it. You can automate social media posts all at once for multiple social networks with its intelligent AI-backed system.

With RecurPost, you can automate social media posts, create recurring schedules with the content library features, access white-label reports, get the best time for posting, get RSS feed automation, bulk scheduling of social media posts, and much more. It will also take care of all your engagement-building activities.
Sked Social

Schedugram got rebranded and is now called Sked Social. It has stellar Instagram scheduling features. The content queue on this app allows users to prepare captions, Hashtags, and photos for repeated use. The platform also renders a real-time drag and drop preview of your drafted posts before they get published. This will let you make quick and convenient changes to your posts in case you want to amp up your feed's aesthetics. It is an amazing Instagram post scheduler that is intuitive in nature for crafting visual content on Instagram.
Cyfe

You can think of it as a business dashboard. This is a little different from social media dashboards in the sense that it collects data from multiple platforms using social media metrics. The thing about this tool is that it gives you a bird's eye view of the performance of your posts, allowing you to assess and evaluate the ROI and engagement impact.
Sociality.io

This social media scheduler is ideal for someone who is looking to get a collaborative tool with advanced reports and approval processes. It is a good Instagram post scheduler if you are looking to automate Instagram posts as compared to other tools. It allows you to manage different content variants like GIFs, videos, and 360° posts on relevant social media channels seamlessly. You will receive reports and PPT files easily and quickly with this app.
Contentcal

This social media scheduling tool will highlight your top-performing posts as well as the best-performing media. You will get the ability to modify the content layout, add colors and logos, and integrate the content into popular file sharing mediums like Google Drive or DropBox. It also pairs with Grammarly, giving you the liberty to write content freely, without having to worry about mistakes. The cherry on the top? Color coded content calendars everyone!
Mention

Mention is a social media marketing automation platform that will perform brand management tasks and social media monitoring tasks fairly well. It allows you to keep track of social mentions, get a hold of influencers, analyze competitors, and generate leads. So, automate social media posts away and over!
Oktopost

Want to automate social media posts but make money even more? Oktopost will help you achieve that. This social media management platform caters to the B2B segment and is here to serve the big bucks. It is essentially a lead generation tool made for social media.
IFTTT

If you are looking for a social media scheduling tool that is powerful yet simple to use, IFTTT is your friend in need. Here, you have to create or pick "recipes" in order to automate certain tasks on multiple social media networks. This app will send you an email whenever someone mentions your brand in a chosen RSS feed for a particular industry. It will tell you exactly when blogs mention you.
SocialBee

A powerful social media scheduling platform indeed. SocialBee extends its features to competitor research. The central scheduling feature on this platform is about category-based evergreen posting. They let you recycle your top-performing posts, saving you time for posting content repeatedly. It also features integration with Buffer. So, if you want to automate social media posts and recycle them, this is your go-to.
eClincher

This social media scheduler has a simplified interface. You can use its visual calendar to schedule your posts and publish them. All your workflow patterns can be monitored via this calendar, and you can schedule your posts at the same time. It also has a URL shortening feature. With this app, you can auto post with smart queues and RSS feeds and you can also search for social media influencers. So, if you want to automate social media posts and also monitor workflows, eClincher is your tool.
Social Pilot

This tool will let you manage all your social media platforms under a single umbrella. It makes team collaboration easy and simplifies campaign-specific work. You can schedule and automate social media posts in bulk with this tool. It is a good Facebook post scheduler since it provides a custom Facebook branding feature.
AgoraPulse

This social media automation tool provides a very comprehensive set of features. You can plan and schedule content across six different social media networks and also track performance, collaborate with your team, and set up a schedule that can be used for content reposting. It is an effective Twitter tweet scheduler, Facebook scheduler, LinkedIn post scheduler, Instagram scheduler and supports Google+ too.
Crowdfire

This social media scheduler is one of the most advanced tools in the market due to the updates made before 2018. You can manage Twitter and Instagram followers and do much more. Crowdfire will help you increase the reach of your content. It allows you to spot Twitter users that are inactive so that you can remove them from your list. You can also analyze the following of other users. The tool has an automated cross-posting feature and suggests the best times for posting too.
Later

The plans available at this social media scheduling tool are mostly ideal for freelancers. It is a great Instagram post scheduler because it lets you save captions and hashtags, manage notifications, and edit your image before posting. It is also a Pinterest marketing partner. It has a drag and drop interface that enables easy scheduling. You will have multiple options for uploading media to your content.
Post planner

The primary goal of this social media automation tool is to assist marketers or businesses in sourcing, sharing, and scheduling content. As a ELinkedIn post scheduler, it offers great capacities. Post Planner suggests the best times to post your content. When you choose the time for posting while scheduling your content, you can choose amongst those times. This tool will predict the engagement and reach depending on the publishing time. So if you want to automate social media posts and double your chances at higher engagement, Post planner is the choice.
Sendible

Sendible is an official partner of social media platforms like Facebook, Linkedin, and Instagram. It is a great EGMB post scheduler too. With its RSS auto-posting feature, you can plan, schedule, and publish images, videos, or Instagram stories from a compose box. There is an option to schedule posts individually or in bulk across different social media platforms. The app also gives suggestions on best-performing hashtags and keywords for your content. It has integrations with Canva graphics editor, YouTube search, and royalty-free image search.
CoSchedule

It is a successful social media scheduling tool that lets you schedule social media posts on multiple networks easily. This way, you will be able to manage multiple social accounts in one place. It allows content reposting and has good analytics features in place. Customer support can be managed well with the help of CoSchedule.
Final Thoughts
Social media automation can be extremely relieving for someone who has the stress of doing it all at once on their shoulders. If you choose to automate social media posts, you automatically sign yourself up for the freed-up hours that can be used for strategy building.
Now you will definitely not need all the above-mentioned tools all at once. You can start small by choosing something that would suit your individual or business needs. You can even test the waters by going for the free trial periods offered by some of these tools and see if they work out for you. Once you get a hold of it and start gaining traction in the market, you will know exactly where your social media marketing strategy needs assistance, and then you can choose a longer commitment with these tools.
Until next time, Be creative! - Pix'sTory made by Debbie Moran