What is the Top 2D Animation Software for Video Making in 2020?
Written on
Are you looking for the best 2D animation software? An increasing majority of marketers and entrepreneurs are turning to a well-structured video strategy to help them engage with their audience and build a sense of community within them.
However, the quality of work your creative team is able to produce highly depends on the tools and animation technology available to them. With access to some of the best 2D animation software, you can enable animators to make videos that get the job done.
From introducing a new product or services to training employees to enhance their skills and efficiency, the visual channel of videos more successfully elicit the desired emotion within the audiences.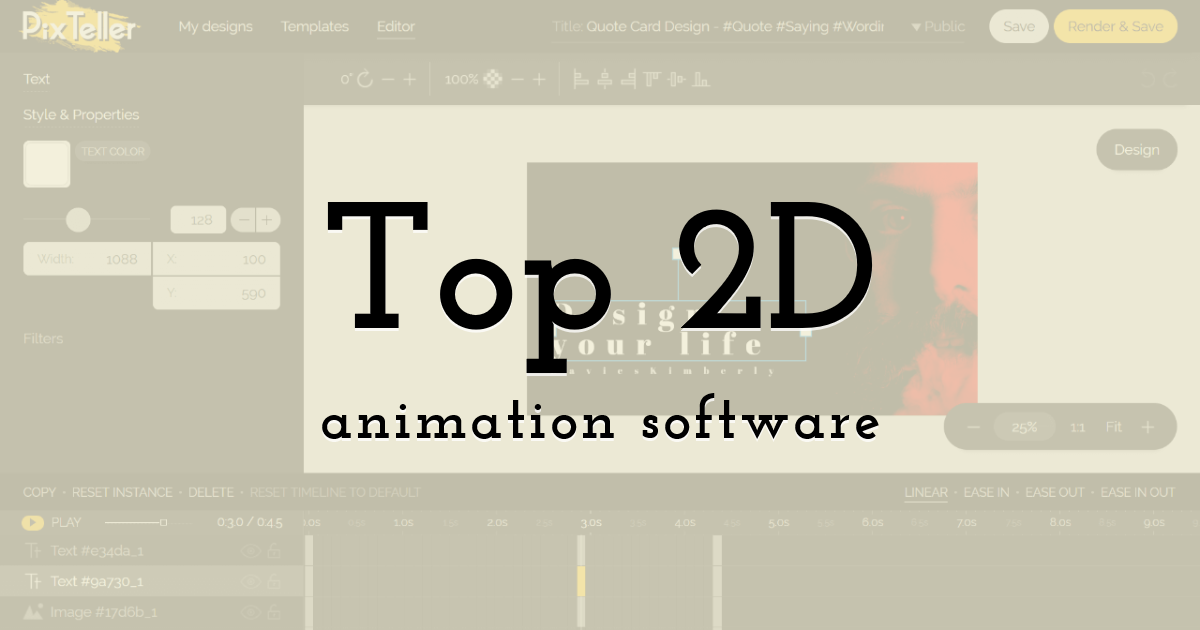 Create beautiful images for your blog posts using PixTeller photo editor
From explainer and educational videos to more engaging and purely entertaining videos, the list of five best 2D animation software given below will empower you to make all types of 2D animation videos for various purposes and audiences.
1. Pixteller Animation Maker
2. Synfig Studio
3. CrazyTalk Animator
4. Digicel Flipbook
5. CelAction2D
1. Pixteller Animation Maker

PixTeller is an easy to use animation editor tool that individuals can use for personal or business purposes. It allows users to make engaging animated videos within minutes by using the system directly in the browser, without having to download the software.

PixTeller is most beneficial to make creative and interactive animated videos for social media channels that allow brands to engage with audiences effectively.

Pixteller Animation Maker Features

• PixTeller offers users hundreds of pre-designed animation templates.
• When using the pre-made template option, users can personalize the animation, making it more engaging for their audience with branded colors and fonts, as well as engaging text and visual content.
• Users can use the PixTeller animation editor tool to build timeline videos with custom frame by frame animations.
• It offers more than 100,000 shapes to make your animation more interactive.
• It provides users the option to save animation in MP4 video or GIF form and easily share on their social media accounts or embed them on the website.
• PixTeller comes with a range of unique text properties to empower your animation and message.

Advantage

The user-friendly interface and a range of animation and editing features make PixTeller a highly beneficial tool for all kinds of purposes, personal and business-related. It is also very cost-effective than competitors.

Disadvantage

If you are looking to design characters or make advanced animation films, then PixTeller is not the best option for you.

Pricing

PixTeller offers you to start using the software for free, along with two packages.

• Free - with limited usage / limited visuals per month
• Pro account allows users to enjoy features like unlimited visual images, custom fonts, and graphic editor for $84 a year.
• Diamond account gives users the access to all Pro features and some additions like unlimited animated videos and easy to use animation editor for $144 a year.

2. Synfig Studio

Synfig Studio is a free and open-source animation software, which is compatible with Windows, Linux and OSX. It comes with two versions available for users.

The stable version is designers for beginners with well-tested animation features that are simple and safe for new users.

The development version is more suitable for professionals, and it offers excellent opportunities for advanced users.

Synfig Studio Features

• Synfig provides an extensive library of tutorials available online for users.
• It allows users to convert any image with a vector element into a new one.
• This 2D animation software enables users to link different parameters of layers using mathematical expressions.
• With a comprehensive bone system, Synfig helps makes cut-out animations, allowing users to control vector designs by using bitmap images.
• It comes with sound support, helping users to add and sync music and narration to the video.

Advantage

It provides more than 50 layers for users to build various kinds of animations, simple or advanced, without worrying about any limitations.

Disadvantage

The development/ testing version offers some experimental features that may not attract a lot of users at the beginners' level.

Pricing

Synfig is a free 2D animation software.

3. CrazyTalk Animator

Popular among marketers, YouTubers, and educators, CrazyTalk, also known as Cartoon Animator 4, is a 2D animation tool designed for professional users. It is compatible with Windows and OSX.

CrazyTalk is a great software that brings like into static images, logos, or props using elastic motion effects.

CrazyTalk Animator Features

• It allows users to create a compound, interactive animations.
• It helps capture different facial emotions and expressive motions in real-time.
• This 2D animation software for beginners converts layers in Photoshop into 2D characters.
• It is used to create lip-synced animation.
• Users also get a 3D puppet profile along with this animation tool.
• With PC use, CrazyTalk provides timeline editing and motion paths.
• It enables users to transform existing content into 360 heads.

Advantage

The extensive range of features, from simple animation to controlling characters' expressions, CrazyTalk 2D animation software, provides attractions for beginners and professionals. It is ideal for users with subpar drawing skills.

Disadvantage

It doesn't offer a drawing tool.

Pricing

CrazyTalk offers two pricing modules.

• Pro version includes audio lip-sync, timeline editing, puppet profile, auto motion, and more features, for $99.
• Pipeline version comes with the same features as the Pro and additional solutions, like allowing users to export to iclone for $199.

4. Digicel Flipbook

This 2D animation software is more appropriate for artists and users who are looking for a great drawing tool. If you want to bring your very own character to life, from stretch, this software is perfect for you.

Compatible with Windows and OSX, FlipBook is designed for both beginners and professionals who need a better editing experience. It is primarily used as a video editing tool and to create cartoon videos like a pro.

Digicel Flipbook Features

• FlipBook is easy and fast to use, and it makes changes just as you change the animation.
• It offers ten layers of animation, allowing users to add extra touches.
• Users can customize the toolbar to suit their use.
• It allows users to import backgrounds, overlays, and movies.
• You can also add multiple music tracks using this software.
• It provides the option to convert pdf files directly into flipping books.
• With the help of the shift key, users can speed paint as they select a color.

Advantage

You can make compelling videos using this 2D animation software and its features like the drawing tool and scanning the sound option.

Disadvantage

It doesn't offer the bone rigging option, which makes it hard for users to include subtle shifts in the animation.

Pricing

FlipBook is free to download, and it offers three upgrade modules.

• FlipBook Lite costs $98 and offers frame size up to 800*600, two columns, and 300 frames.
• FlipBook Studio comes at the list price of $298 and provides features including frame size up to 800*600, six columns, and 1000 frames.
• FlipBook ProHD will bill you for $798, and it includes frame size up to 1920*1080, 100 columns, 1500 frames, and SFX layers.

5. CelAction2D

CelAction2D animation software is most rewarding for professional animators, as it allows users to build a brilliant and advanced level of animations. CelAction2D gives you an exemplary variety of options with a palette of 16 million colors. It gives you all features an animator needs to make unique, sophisticated and high-end animations.

Besides, the user-friendly interface makes CelAction2D an excellent tool for beginning and intermediate users, along with catering to the needs of professionals.

CelAction2D Features

• It provides ergonomic controls as one of the significant features of the software.
• It is easy and fast to use, particularly for professional animators.
• Functions smoothly with all current Windows 32 and 64-bit, and is compatible with Linux, OSX, Macs, and Boot Camp.
• It provides additional controls for animators with multiple camera features.

Advantage

It provides high-end responsiveness for expert-level users with fewer system requirements.

Disadvantage

The software enables users to draw complete animation, so they have to use third-party software to import all words.

Pricing

CelAction2D offers three editions of the software.

• Studio edition costs $1350 and includes an extensive list of features, which makes this module ideal for TV series production and feature films.
• Professional edition will cost you $949, and this option is tailored for smaller teams or individual animators.
• Educational edition costs $1599, and it is the same as the Professional edition and includes the PlusOne module.
Conclusion
Whether you are a professional animator or you are at the beginners' stage, a 2D animation software will help you create engaging and original video content that helps you engage audiences in 2020. Creating a 2D animation video is more accessible than a lot of us think, as long as you have access to the right animation software for your needs and skill level.
At Buzzflick, we are constantly trying to eke out new software that helps us create the best 2D animation for our clients. Photoshop and other conventional tools are working fine for now, but other, much more impressive ones like PixTeller are also making some great headway in the industry.
You already have a great idea, and you can use one of these best 2D animation tools to carry your vision to life in a unique way and be able to strike a conversation with the community.
Make sure you use the right 2D animation software for your needs and make a video that gets you noticed in the digital community.
Until next time, Be creative! - Pix'sTory made by Jane Collen

Jane Collen is a distinguished and highly experienced industry voice. She is an incredibly eager learner and is always excited to write about new and trending topics, but her field of expertise is 2D animation, app development, emerging tech like AI, Big Data, and the field of outsourcing for businesses.