11 Unique Ways to Use Instagram Guides for Marketing
Written on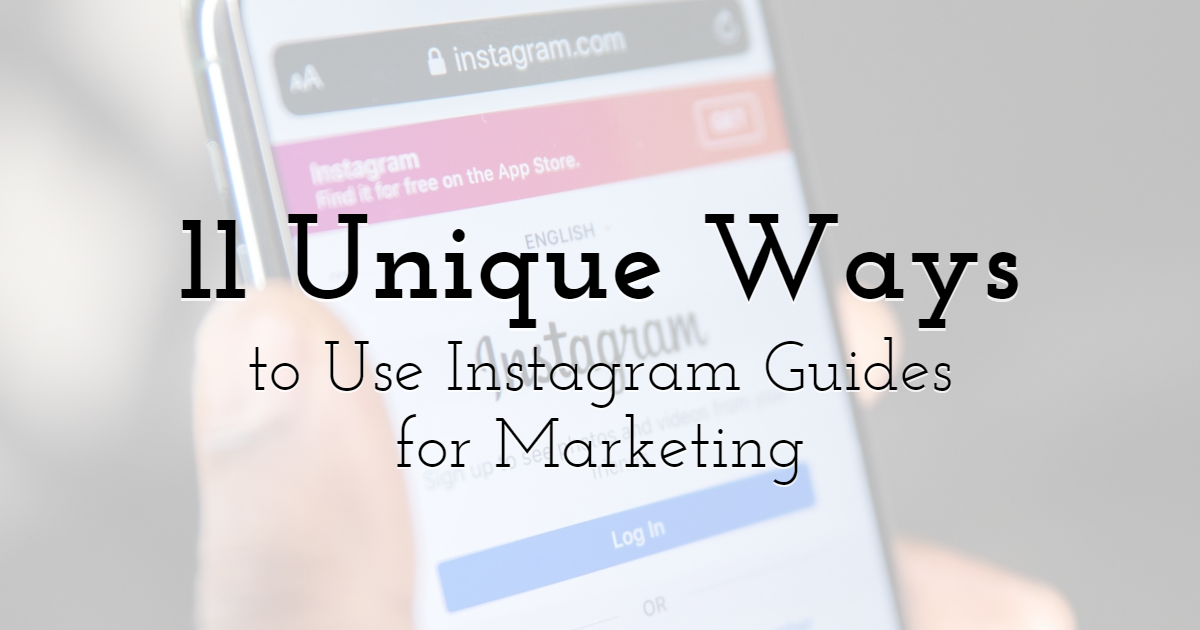 Create your own images and animations with PixTeller photo editor & GIF maker
At present, Instagram has turned into one of the trendiest social networking sites that deal with photographic content. Most tech-savvy users try to use this platform to run a business or earn indirectly by becoming an influencer. If you are planning for the same, Instagram Guide can prominently help you.
The Instagram Guide is a prominent feature that is newly introduced. It is a blend between the carousels and blog posts. The main work of this feature is to repurpose. You can create a Guide using posts or products that are already published.
Here are some unique ways to use Instagram Guides. You can easily become an influencer while using this feature in the right approach regularly.
Making Themes for a Set of Posts

If you run a business and use Instagram as a medium of advertising, the best thing for you would be to make a proper theme. The Instagram Guide can be used to add a theme to a few posts that are related together.

This can help your potential customers find a particular post easily and order for it instantly.
Creating an Instagram Guide for Gifts

The new Instagram Guides can give you a chance to make a post for the gifts. If you have already posted some gift items, the Instagram Guide can help you repurpose them according to the special days. Moreover, you can add new photos when making a Guide.

You can make a Guide for Christmas or any other special day or festival depending upon the products you market and the target audience.
Instagram Guide for Tips

As an influencer, you can upload tips related to many things on an Instagram Guide. All you need to do is compile the posts in the right order as the viewer can easily understand it.

It is one of the most effective self-marketing strategies that allow you to get better audience exposure and manipulate them while enjoying being an influencer.
Provide Instructions About a Process

On the Instagram Guide setup, you can give instructions to your followers. Make sure you select something relatable and provide detailed, step-by-step instructions. Expect the post to get good exposure and a significant boost in the number of followers.
Post for a Specific Cause

You can post for a specific cause by using the Instagram Guide. Many companies and organizations come up with unique campaigns of which you can be a part. If you create an Instagram Guide supporting a specific cause, you can more likely get an excellent audience response.

However, in such a situation, you need to be aware of the taste of your target mass and the type of campaign they can relate to.
Create a Roundup

If you are into a business and have inventories left at the year-end, you can create a roundup post with the help of an Instagram Guide. Your followers (potential buyers) can easily check the list and contact you to buy the products they need.

Ensure you tag some of your leading followers to the post and give an exciting name to it as a guide headline.
Creating Travel Guides

A travel guidepost can be easily made with the help of an Instagram Guide. It can help the viewer gather information about a place, set an itinerary, and provide him with the necessary motivation to get out. The best you can do is release a few Instagram Guideposts while you are traveling.

Like the standard posts, you will be able to tag locations on these posts. Moreover, if you want to add details, you can make exclusive posts about a single place. In such a case, the Instagram Guide post can take the shape of a storyboard.
Creating Your Own Brand and Saying a Story

You will be able to create your own brand and keep its story in front of Instagram users. With the help of a Guidepost on Instagram, you can give your followers all the information regarding your brand.

Many big brands have also taken this approach and got a massive number of followers in the minimum period.
Give a Community Message

The best you can do is give a community message on Instagram. It can reach directly to your community if you are promoting or representing one. The best you can do is write all the messages in the form of image files and show them up after getting a special theme.

This can increase the chances of propagating the post, and people from your community can relate to the post.
Making a Personal Post

No matter if you are an influencer or use Instagram for a business purpose, you always publish personal posts. You can post a picture with your friends after completing a few years of friendship with a message.

So, these are the 11 unique ways to use the Instagram Guide. Now the main concern that arises is the way by which you can access ad use it.
Steps to Access and Use Instagram Guide

The step-by-step procedure is given here in details:

Step 1: Look for the Plus Symbol

The plus symbol denotes the option from which you can add the posts. After you tap on the 'Plus' option, look for the 'Guide' option.

Step 2: Select Guide

As you find the 'Guide' option, you need to tap on it and choose the posts that you want to re-upload for the sake of re-purposing. In the case of posting, you can either choose a pre-uploaded photo or choose one published by any other public account.

Step 3: Tap On the 'next' Option

After you have selected the photos, you need to tap on the next option. Before publishing the post, you can choose a cover photo. There will be an option to change the cover photo as it can help you easily select the picture you want to add as a cover.

Step 4: Check for Edits

Once all the entries are done, you need to check if anything needs to be changed. Thoroughly observe the write-ups before you go publishing the content. Enter the location before you upload the post.

Step 5: Share

The last thing you need to do is tap on share. This will post the content.
Final Thoughts
As per the features of Instagram are concerned, it can advance several times in the coming years. The best you should do is to apply them all to add creativity to your Instagram post.
Having a large base of followers on Instagram can indirectly earn money from collaborations and sponsorships. So, if you have a business motive, you should always try to present yourself as a reliable public figure in front of the people. Remember that you need to trendy enough to get followers on Instagram.
Until next time, Be creative! - Pix'sTory made by Bhavik Soni
Bhavik Soni is a Creative Writer at Auto Monkey. We provide an original analysis of the latest happenings in the social media industry. Connect with Latest Social Media Trends and News plus tips on Twitter, Facebook and other social tools on the web.