The Secret of Killer Marketing: Email & Instagram Give Benefits When Working Side by Side
Written on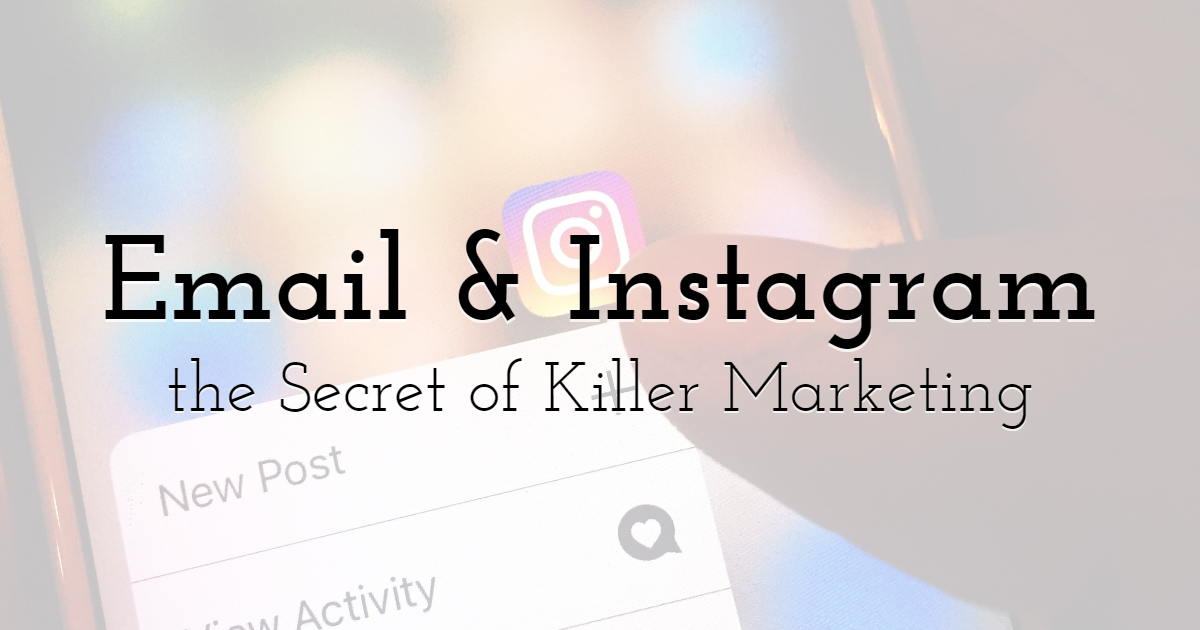 Design your own short videos with PixTeller animation editor & GIF maker
Today, social media is not just a digital marketing services platform. It is more like a digital popularity contest. Value-driven data curation and creating thoughtful and insightful content attract the major Millennial glued to social media. Undoubtedly, Instagram is one of the most potent social channels, and it is the best time to leverage it for your business marketing. Email campaigns are considered incidental, but their significance can't be over-ruled. According to a survey, consumers spend one-in-five minutes on social media platforms. This provides abundant opportunities for marketers to showcase their brand image to their target clients. Instagram stories are a powerful tool to keep your target audience engaged while you add humanization of your brand.
Instagram is not only used to share pictures and stories of individuals or their pets. It has gradually gained the reputation of being the most ubiquitous platforms chosen by B2B and B2C companies, with some unexplored yet highly instrumental growth opportunities. It's time to join the leading B2B brands' league and harness the true potential of connecting to the target audience through Instagram.
Interesting Facts About Instagram

Let's have a look at the following stats related to the most favored social media app Instagram. The convincing numbers and information in the below-mentioned points will compel you to market your business through innovative and engaging Instagram stories.

Hence, it is evident that Instagram is the perfect platform for growing brand awareness and launching new products. It gives the ideal platform for brand promotion authentically and subtly, without hard-selling your products or services to your customers. You can also hire new talent or inspire the audience by showcasing your products.
Email Marketing

With various digital services coming up, we usually tend to ignore the most basic means to connect to our target customers, i.e., eMail marketing. In fact, it is one of the most effective and basic ways to develop steady relationships with prospective customers. Regular updates and insightful emails with your target clients can turn first-time buyers into recurring customers and brand promoters. With the hype on digital advancements, like SEO, affiliate marketing, etc., we feel that emails are dead and don't use them to keep in touch with potential customers.

But marketers suggest that emails are still the most used platforms by everyone online to get the most effective and critical information. Statista reports that the most popular daily online activity of adult internet users in the U.S. is to check and respond through emails.
Looping Instagram with Email Marketing

We all have our mailbox full of accumulated mails. Brands need to outstand in order to capture the audience's attention and get clicked in the target audience's inbox. There are hundreds of businesses that infiltrate your inbox and remain ignored. Digital marketing services have become smarter and use creative and out-standing email marketing strategies to engage customers through social media platforms like Facebook, Instagram, Twitter, or Snapchat. Researchers claim that Instagram delivers a much higher engagement per follower than Facebook or Twitter. For example, an Online Teaching App garnered more attention after adding pictures and video clips from live classroom sessions.

Instagram stories and email marketing strategically influence the target audience and gain more business prospects. Email marketing campaigns include sending banners, brochures, info-graphics, and offers or coupons to keep your audience updated with the recent developments related to your business.
Strategies to Share Links on eMail Marketing Through Instagram

Let us now see the different strategies that are used by the leading digital marketers to share their business links with the email marketing landing page on social media platforms, like Instagram.

1. Instagram Bio
It is the perfect spot to capture your target audience's attention when they first visit your Instagram Account. Instagram Bio tells about your business and services briefly and prompts the users to connect with your business elsewhere, rather than Instagram. You can also keep your audience connected through emails by asking them to follow an email sign-up landing page. For example, in an article written by O Adegbola, there is a detailed explanation of how Forbes uses their Instagram Account for marketing and capitalizes this platform. Similarly, you, too, can create an engaging bio for your business and prompt your audiences to enter their email address. By adding to your email marketing list, you are a step ahead of your business rivals and closer to your target audience.
2. Instagram Stories
Collaboration with social media platforms gives your business a great capacity to gain higher engagement. Instagram stories are the perfect example of keeping your audience glued to an interesting graphic or thoughtful content. The I.G. stories' primary purpose is to hold the attention and drive the audiences to the sign-up URL. Designers are adding innovative features to make their designs more interactive, like adding the "Swipe Up" or "See More" feature. Mostly the users are driven to sign-up the URL, but even if they don't, the increase in traffic is an attributor to your business, as well. Tommy Hilfiger's Instagram Stories are a must-watch before starting your own stories.
Turn Your Instagram Followers to Successful Business Leads

The following points will help you to convert your Instagrammers into potential business leads and join your business email marketing list:

Using Effective CTA Phrases
Most users get attracted by seeing the extra benefits or the right tone and context seen in your business's Instagram Bio. Using words like "Get promo code" or "Download now", can convince even the lazy ones to join your email marketing list.
Using Instagram Contests
People of all age groups are excited to take part in contests and win prizes at last. A simple contest or event on your Insta account can be used to gather the audience's email ids. It keeps your audience engaged and adds more email addresses to your database.
Adding Insightful Content
Sharing recent developments or interesting facts about your business can help your audience develop an interest in your brand. Some users are inquisitive and feel pleased to learn new products in their choice of domains. You can become that by creating engaging content.
Encourage Users to Share
If your Instagram stories are interesting enough to entice your audience, then your followers will definitely share your stories. Every follower who is encouraged to share your stories becomes an advertiser for your brand. Even if your friends mention your name or tag you in the comments, it acts as an advertising strategy as well. You can use this info to add new members to your email marketing list.
Share Links of Other Social Media Accounts
To leverage digital marketing services, it is highly recommended to share your other social media accounts. For example, you can make an interesting YouTube Video and share its link on your Instagram account. It is one of the most creative strategies to lead your followers and increase your list through other social media content. Ask your friends and followers to share and subscribe to your YouTube video once you have shared it on your Instagram stories, post, or bio.
Newsletter Subscription
One of the direct ways to increase your email campaigning list is by asking your links to subscribe to your newsletters. It helps in sharing regular updates, essential developments, and promotional content with your followers.
Final Thoughts
Today, the best way to reach out to your target clients is through social media by creating different channels on various platforms. Using experienced and the best Digital Marketing Services for your products or services acts as an excellent tool for promotion and creating business leads. Promoting social media is the latest strategy to generate sales and list potential customers through eMail marketing.
Marketers should never ignore the importance of eMail marketing campaigns and keep in touch with their clients and future prospective customers through regular updates via emails. Instagram stories are a popular social media platform to create an email marketing list and enhance your customer base. Digital marketers are using innovative strategies to promote on social media and generating promising results. This post highlights the crucial strategies; one must follow in order to get profitable results. Once you get linked with the prospects, you can use effective tactics to build a strong bond with your clients gradually.
Until next time, Be creative! - Pix'sTory made by Liza Kosh
Liza Kosh is a senior content developer and a blogger who loves to share her views on diverse topics. She holds great knowledge and experience in technical and creative writing and is currently associated with Seasia Infotech, a Digital Marketing Company.