The Top 15 Website Designing Software You Need To Use!
Written on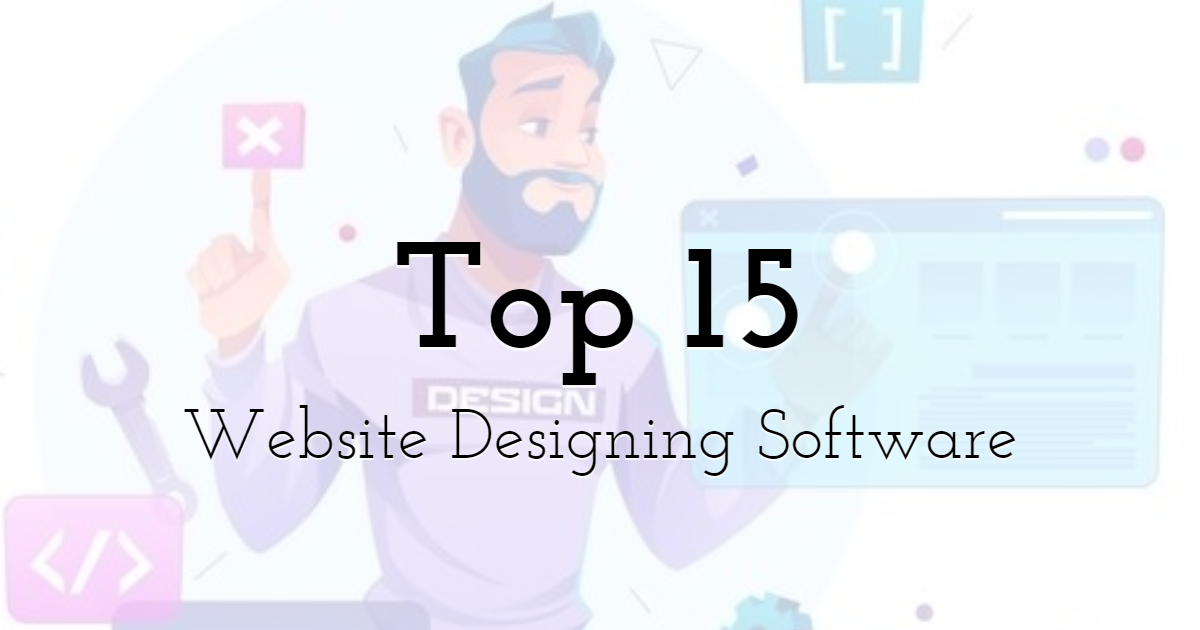 Create your own images & animated gifs with PixTeller animation editor & GIF maker
When it comes to running a business successfully in the digital era we live in, a business must have a good website. If you''re wondering what the best website design software is, you''re in the right place! Today, we''ll be mentioning the top 15 website designing software you should know about! Continue reading on as you''ll find everything you need to know regarding them, here!
The Best Website Design Software

What makes a good website? Well, a website has to be attractive, easy to use, and mobile-friendly. A website should give your visitors a seamless experience. Therefore, you must use the right website design software. Here we''re mentioning the best website design software you can use!
Adobe Dreamweaver CC

A website design software for professionals! This website design software is great for designing your custom website and making it a responsive one. In order to use this, you don''t necessarily have to know much about editing and HTML editing. It is because this software works through it for you. It is a great software that helps you to code your website design correctly and professionally.

One of the best advantages of using this website design software is that you don't have to work around an existing or readymade template. You have the flexibility to make sure to design a website according to your preference. Therefore, enabling you to get the look you actually want!
Wix

Considered to be the best website design software for beginners. If you've just decided to get a website for your business but have no idea where to start and how to create one, Wix is the best choice for you! This website design software provides you with an easy to use interface along with helpful instructions. Worried about the coding that comes along with websites? Well, Wix makes sure to take care of that for you.

Wix comes with some great features and tools for you to use. It is one of the most popular web design software online. Wix provides you a range of plans and products along with 500+ templates. Therefore, once you begin using this software, you can get right into the design process. Also, Wix allows you to make adjustments however you prefer.
Wordpress

The best custom website designing software online for beginners. WordPress is very easy to install and use software that offers a quick way for any beginner to get a website. WordPress provides a wide range of template designs for you to choose from along with additional features that help you get a website according to your preference and desire.

This website designing software offers an easy to use interface with a ton of instructions that will make it easy for you to get a website. Not only do you have to work with custom made templates, but you do also have the freedom of working with your own design. All you have to do is use the drag-and-drop functions. Therefore, with the help of this website design software, building a professional website design is possible and easy!
Weebly

A professional website designing software for beginners! It doesn't matter if you have any experience with coding because Weebly provides an easy to use interface and tools that allow you to create a good website. You can also use existing templates to work with and come up with a design according to your preference. However, there aren't that many themes available on Weebly, but each design is professional.

These limited designs available are very responsive, mobile-friendly, and include several helpful features. You don't have to worry about the limited designs since you can simply use those designs to personalize them according to the type of website design you're looking for.
Webflow

No coding knowledge? No worries! Get started with your web design immediately with Webflow. This web designing software allows you to drop elements onto a page seamlessly without any problems. You also have several templates to use for your website design, plus they are free.

Unlike some website software that takes care of the coding part but also takes care of everything else, thus giving you little options to make adjustments, Webflow provides you with the right tools to make changes on elements as you wish. This is a promising website design software that many digital agencies have begun using as well.
Figma

A professional website design software, Figma is the best software for a team of professional website designers to use. This software was designed to make the process of website designing for a team better. So what makes it so great? Well, with the help of Figma you can design a website and present the prototype to stakeholders for approval. Also, with the help of the prototyping option, it becomes easier to fix any errors on the website before the launch.

Other than this, Figma is considered the best website design software because it has the ultimate all in one features any website team wants. This is a professional website design software best for website designers working as a team on a unique website design.
Adobe Photoshop

Adobe Photoshop is probably the most popular website designing software tools for professionals and beginners. Adobe Photoshop is more of a photo editing software than a website design software, but the reason we're listing it is that it can help you a lot during the website design process. How? Well, because for any website to be attractive, an attractive image is needed.

Therefore, Adobe Photoshop gives you the editing tools you need to properly adjust, crop, and edit any photo on your webpage. With the help of Adobe Photoshop, your image will always be the right size according to your website design. Also, you have a ton of other professional features that you can use when it comes to photo editing.
Marvel

It doesn't matter if you're an advanced or beginner website developer, Marvel is a website designing software that presents an easy-to-use interface along with stunning features such as wireframing. No need for coding when it comes to using this all-in-one website design software. Marvel delivers the simplicity and ease any designer would want when designing attractive and professional web designs.

Marvel also brings you testing options so that you make sure that the website you are building is perfect and according to what you wanted. It's one of the best website design software for professional designers and a great way for beginner developers to make responsive websites.
Elementor

Elementor is probably the best website design software because it offers easy integration and is free to use. It's a great website design software for both professionals and amateurs to use and create good websites. This software provides a handful of marketing tools as well for you to generate more leads and traffic to your website!

Other than this, making any type of website becomes possible with elementor because it provides flexibility and freedom when it comes to customizing your website. Also, making a responsive and consistent website becomes much easier with the help of the 80+ elements that are available for you to use on your website.
Bluefish

An easy to install website design software that only takes a few minutes to set up and supports a wide range of languages such as PHP, Java, JavaScript, and much more. This website designing software comprises a brilliant search function that enables you to search and find text across several projects.

However, since this is among the smallest and less considered web design tools today, Bluefish takes time to get used to. Furthermore, this can be quite a helpful web designing software, plus it's free so trying it out won't cost you.
Gimp

When it comes to website designing, Gimp provides the designer with ease to create icons, buttons, banner images, and much more. You also have the flexibility and options to create your very own wireframe as well. Other than this, the interface of this website designing software is customizable and adaptable to other software.

Some of the main advantages of using Gimp include its incredible image editing feature set, the customizable interface, and lastly, it is free to use. It's a great application that can help you come up with professional web designs.
Bootstrap

This is the most popular framework used around the world and it's great for building responsive websites. It's a great web design tool to use because of the quickness and ease it brings to the whole website design process. It also includes HTML along with CSS based design templates for a ton of elements. Other than this, it also supports JavaScript plugins.

Many professional designers look for the right tool that can help them get the job done right. Well, many times they pick Bootstrap. It's a great tool to use when you're looking to whip something out fast.
Squarespace

If you're looking to build your website without needing a developer, Squarespace can be a great pick for you. Squarespace is known for its fully responsive website templates and blogging features. Also, it enables the user to use a variety of different pre-built website templates in order to create and modify a new web design.

This is a good website builder tool that is best for people who don't know anything about coding. It comprises a user-friendly content management system as well. Creating professional websites has never been this easy.
Adobe XD

Probably the best Software for interface design and prototyping, Adobe XD stands out because of its easy-to-use elements. This software tool provides an excellent and easy interface from the very start which smoothens the whole design process.

Adobe XD originally is a prototyping tool best for creating designs without the need for any coding. Once your design is ready, you will need to export it and recreate your design in an HTML editor.
Pixelmator

This is a professional tool for editing images. It's a powerful, fast, and easy-to-use software tool that allows you to enhance a photo as you wish. Pixelmator provides the option to create interface design and also use it for illustration purposes. However, it works best as a tool for touching up photos and giving them a professional look.

With the help of Pixelmator, you can perfect every detail of your image just the way you want to. Also, it supports RAW photos from a handful of digital cameras.
Which Ones The Best?
As you can see, we've mentioned the top 15 web designing software for you today. You'll find everything you need to know regarding this web design software. If you're not looking to invest in a creative website design agency, you can use any one of these website design software and create your very own creative and professional website design.
Until next time, Be creative! - Pix'sTory made by Hassan Hussain