8 Transferable Skills from Architecture to Product Design
Written on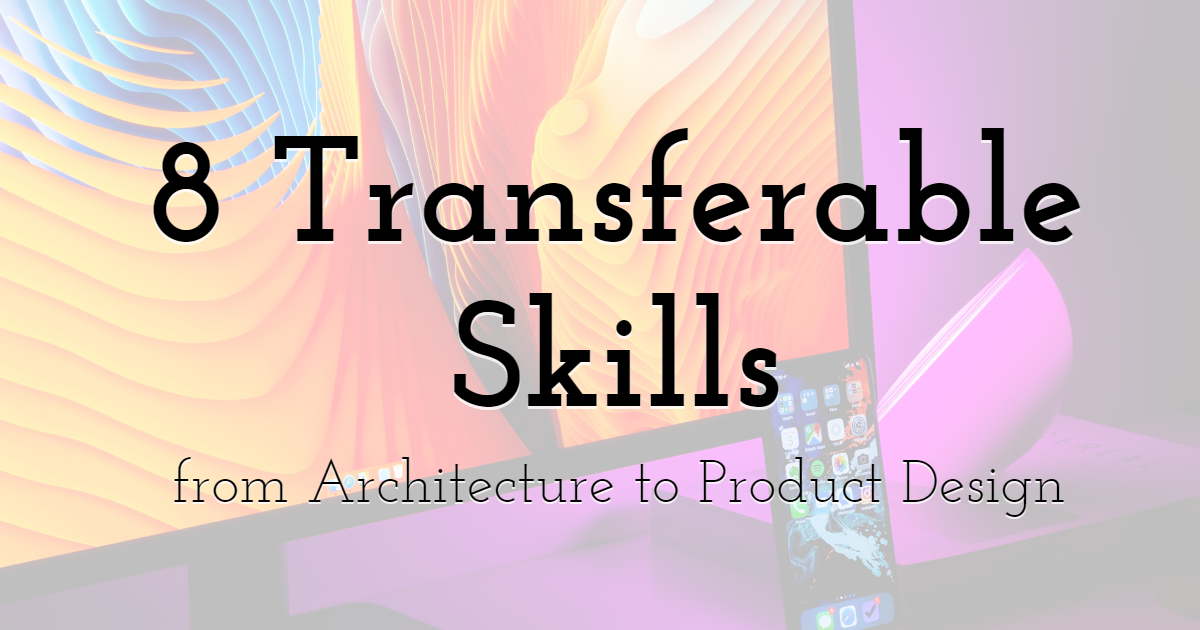 Design your own short videos with PixTeller animation editor & GIF maker
When you graduate from a university, you may find a job in architecture and later be involved in product design. Career switch from architecture to product design is a great learning opportunity despite some ups and downs.
Architects can succeed in other disciplines regardless of whether they are related or not. Both Architecture and product design require you to have specific knowledge and skills so that you can be productive. Read on to understand eight transferable skills from architecture to product design.
Communication Skills

Just like architects, product designers engage in making presentations to shareholders and collaborating with their peers. Due to online engagement, product designers use group reviews to understand the digital marketing trends that can facilitate brand awareness.

The peer-to peer-interaction can allow them to have an idea of how products should be designed as physical markets continue to reduce. Architects normally present their projects to their peers and clients, and therefore, they can succeed in product design.
Virtual Skills

Digital products must be designed in a way that they are appealing to the target audience. People prefer appealing and more beautiful products to the less-aesthetic ones. Architects undergo intense training that makes them keen on the visual design elements such as typography, color, and layout.

Design work is not all about making something look good, but it is also a problem-solving aspect. Therefore, visual capability plays a role in product design. Technological advancement has led to the popularity of digital products such as e-books, courses, music, software programs, photography, and more.
Technical Skills

Architects engage in both digital and traditional-based drawings. They also use animation tools to add value when creating videos for presentations to clients. Some have coding knowledge to enable them to explore modern architectural forms and adapt to market changes.

The technical tools used by architects are similar to those used by product designers. For instance, 3D animation tools allow product designers to create high-quality and engaging renderings and give accurate product representation. Thus, architects shifting their careers to product design benefit greatly.
Empathy Skill

Empathy skills apply to the architectural process as well. Before developing a plan, architectures spend a lot of time thinking about the needs of the customers. Architects use interviews and observations to seek answers from their customers and prospects. They are trained to be sensitive to human needs and have a vast knowledge of ecological and cultural traits.

Understanding other people's feelings and sharing emotions is an integral part of the work of designers. Product designers don't design for themselves, but they do so based on an understanding of users' needs.
Teamwork Skills

Architectures must have the ability to collaborate and work well with others. An architect must liaise with the construction team, internal team, the client, planning officials, and surveyors. Each of these parties has a specific role to play to ensure the successful completion of work.

Many companies hire product design teams to craft an idea quickly and enable them to achieve business goals. Design services are diverse, ranging from UX design, research, and development, review, and branding. All these services require teamwork from various team players.
Artistic Skills

An architect must draw something, whether using analog techniques or digital ones. They need to be familiar with methods and processes used including scaling drawings accurately.

Many companies prioritize product design because customers are concerned with this in addition to usability. Without artistic skills, the customers' perception of the products may be damaged. Designers must think like artists by logically applying an imaginative idea in their design work.
Problem-Solving Skills

When a design problem occurs, you need to develop ways of solving it faster and efficiently. It could be a material supply issue, structural problem, or legislative issue. Either way, it is important to identify the root causes of a problem, evaluate options, and come up with a solution.

Product designers must think of how to solve a problem when it arises during the design process. The problems could relate to price alignment, stakeholder alignment, transparency in communication, and product methodology.
Self-Learning Skills

In most cases, architects are not advised by their instructors about the most relevant tools to use or books to read. They discover the design styles they like and what they want to achieve and then test them as they learn.

All product designers should possess the self-learning trait. Many architects who moved to the product design field are self-taught due to an intense engagement in experimenting. Product designers should constantly learn new things because technology is advancing fast.
Final Thoughts
If you want to switch from architecture to product design, you can evaluate yourself and find your motivations and strengths. Some or all of the above skills may enable you to have a smooth transition and make you enjoy your work more. Take advantage of the architectural tools and skills that you already have and improve them. Gaining full knowledge and confidence requires some patience, and this can enhance growth in your new career.
Until next time, Be creative! - Pix'sTory made by Jennifer Holland
Jennifer Holland is a professional essay writer with three years of experience currently working with Assignment Master. She writes in education, student life, and career development niches. She provides online classes to school and college students to help them get their dream job through writing and editing skills and better knowledge in various subjects.