An Ultimate Guide on The Best Video Marketing Software In 2021
Written on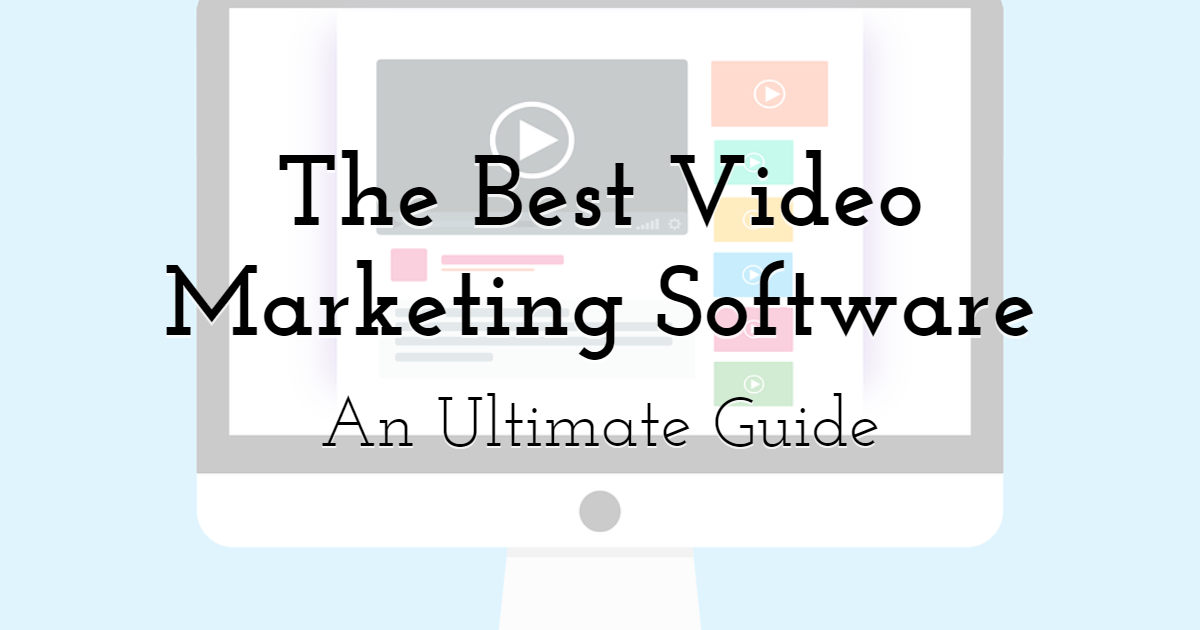 Design your own short videos with PixTeller animation editor & GIF maker
It's 2021, and video content cuts through the noise. On average a person watches 100 minutes of video every single day. That's the reason why 95% of the video marketers plan to increase their spending on video content.
The internet speaks volumes of the importance of video content. Whether you are a startup, a medium-sized business, or already have millions in sales it's important to incorporate video content in your marketing strategy. Different forms of videos could be animations, live streams, motion graphics, whiteboard animations, etc. You need tools that can fulfill your requirements perfectly to help you achieve your business goals.
Video is the go-to marketing medium today. Businesses use video content for higher engagements, traffic, and sales. With video content you can better target your audience - be it your website or any social media including YouTube, Facebook, Twitter, Instagram, etc.
What is Video Marketing?

Video has revolutionized the way people used to do business. First, you should create effective video content with various software. Secondly, you will have to implement a proven video content marketing strategy to share it with your audience. Video marketing is as important as content creation. Effective content marketing can bring you more traffic, engagements and sales.

There are several reasons why you should choose video marketing. Video content is more engaging, and it speaks to your target at an emotional level. Today video marketing has transferred from a single advertising tactic to a complete marketing strategy.

Without further ado, let's explore some of the best video marketing software in 2021. We have specifically mentioned the functionalities of each of them, so that it's easier for you to choose the best.
Video Marketing Blaster

Video Marketing Blaster software helps you increase traffic on your website. This tool can save your time by doing extra work in order to gain traffic to your website.

Key Features:

• Autopilot SEO Optimization features can analyze your competitors. It can identify all the weak points in the video, and automatically fix them.
• You will be able to create perfectly optimized titles, descriptions, and tags.
• Video Marketing Blaster will help you discover untapped buyer keywords.
• It will drive 100% free traffic from Google and YouTube to your webpage.
• Based on this analysis, it will give an ideal combination of titles, descriptions, and tags.

Purchase Plans:

The one-time price tag of a basic video marketing blaster is 27$ with 60 days money-back guarantee. The Pro version is also available.
Vimeo

Vimeo is a perfect tool for online video collaboration, distribution, and management. It has a quick, customizable, and easily embeddable player. Through Vimeo's advanced controls you can see the real-time audience. This tool is perfect for team collaboration. You can work together with your team by inviting them.

Key Features:

• Features such as teamwork, password protection, tools to review the work.
• Better video quality, high storage, privacy settings, speed menus and much more.
• It has proven marketing and monetization features. It enables lead generation and offers domain and geo-restrictions.
• Advanced stats, email marketing, social sharing, google analytics, worldwide distribution, call to action, and engagement graphs.
• Simultaneous events, auto archiving, customer support, and cloud transcoding and much more.

Purchase Plans:

• Vimeo Basic: Free.
• Vimeo Plus: 5GB/Week and 250GB storage/year with a single user $7/month or $84/year.
• Vimeo Pro: 20GB/Week and 1TB storage/Year with 3 team members $20/month or $240/year.
• Vimeo Business: No week limits with 5TB storage/year with 10 team members $50/month or $600/year.
• Vimeo Premium: With unlimited live streaming 7TB/year with unlimited live viewers $75/month or $900/year.
Vidgeos

Vidgeos is one of the best video creating and marketing software. It is easier to create animated content videos using Vidgeos. With this marketing tool, you can promote your services or product with email marketing, affiliate marketing, interactive and live videos, publishing them and selling your videos as well.

Key Features:

• It has a live call-to-action button (or CTA button).
• Best in editing your videos to create better content in real-time.
• It provides auto language translation for global marketing which is helpful in marketing globally.
• It has more features like audio recording and editing, slides for use, smart elements, voiceover and customer support for assistance.

Purchase Plans:

• Monthly plan is $67 per month.
• Yearly plan is $468 per year.
Animaker

Animaker is a great tool to create animated videos. With the help of Animaker software, you can make videos, GIFs and short videos. Moreover, the software allows you to perform live video editing. This tool uses an HTML5 engine which gives a seamless performance on optimized browsers.

Thousands of crafted templates are available to use, and Animaker has one of the largest video asset libraries.

Key Features:

• One of the largest animated libraries, characters, icons etc.
• Live video editing and 4k recording.
• This tool provides 6 unique video styles i.e. 2D, Infographics, Handcraft, Whiteboard, 2.5D, and Typography.
• Its supports almost 50 languages, custom fonts etc
• Enterprise features
• Multi-user collaboration
• Task management
• File management
• In-app messenger
• End-to-end visual solution

Purchase Plans:

Animaker offers pricing plans according to the length of the video and the number of videos you create.

• Animaker Free: $0, length of video 2min.
• Animaker Personal: $12/month, 20 videos/month, video length 5 minutes.
• Animaker Startup: $19/month ,40 videos/month , video length 15 minutes.
• Animaker Business: $39/month, 100 videos/month, video length 30 minutes.
Biteable

Biteable is marketing, video creating, and video editing software. It provides thousands of built-in templates for video editing and creating video content. Moreover, this tool is used for the promotion of products and selling them on a large scale.

Key Features:

• A built-in library that never runs out of footage and animation with 85000+ Shutterstock clips and animations.
• You can make your own style, choose your own track.
• High quality videos, fast speed composition.
• Create instant videos with thousands of templates. You can directly post on your social media platforms.
• Create custom content.

Purchase Plans:

• Free Trial: Biteable is available.
• Starter Plan: Includes 1 video/month for $20/month.
• Pro Plan: Includes 3 videos/month for $29/month.
• Unlimited Plan: Includes unlimited videos/month for $49/month.
Hippo Video

Hippo Video provides services like video hosting, video email campaigns, video selling, video support, and account-based marketing. It strengthens marketing, sales & email campaigns through client portfolio. Create personalized video emails for the sale pitches, demos, messages and get 8X better engagement with Hippo Video.

Key Features:

• Create and edit videos quickly with the help of a button.
• Send or embed videos to Google Drive, YouTube, Vimeo, Website, and Social media that adapts to every screen.
• Share your content with strong protected privacy by protecting them with passwords and setting an expiry date of the video link.
• Guest recording, organizing videos under categories, marketplace integrations, and smart integrations.

Purchase Plans:

• Hippo video offers one free version with unlimited videos and 100 GB bandwidth.
• Starter Plan: For brand visibility $15/month.
• Pro Plan: For knowing the audience $29/month.
• Growth Plan: For video marketing strategy for $49/month.
Filmora

This software is good for beginners. It's user-friendly. You don't have to spend much time exploring the functionalities of video editing software. The tool is easy to use and provides different styles, themes, effects, and customizations for video creation.

Just make sure you create a great thumbnail with Visme's tool.

Key Features:

• Tilt-shift, Mosaic, colour grading presets audio equalizer, and 4K resolution editing support.
• It comes with Split-screen, Advanced text editing, Scene detection, Video stabilization, etc.
• Create backgrounds using Chroma key, frame-by-frame preview, speed control, social import, and many more.

Purchase Plans:

• Monthly Subscription: $7.99/month.
• Annual Subscription: $39.99/month.
• Lifetime Subscription: $59.99/month.
Wistia

Turn your videos and podcasts into marketing machines with Wistia. It is a great marketing tool that allows video customization and video SEO to increase more traffic to your site. Wistia provides business hosting services and enables them to improve leads seamlessly.

Key Features:

• Unlimited users with basic integration to other tools
• Cross device compatibility, team collaboration, A/B testing
• You can create fully customizable videos

Purchase Plans:

• With all standard features, Wistia offers one free plan for Startups
• Wistia Pro: For Professionals $99/month.
• Wistia Advanced: For Businesses (custom pricing).
Videoshop

Videoshop is a video creating and editing app. It contains editing and customization tools that are used to make interactive videos and content. Moreover, Videoshop consists of amazing effects, filters, brushes, and some other useful features that make your video more effective. It is available for IOS and android devices as well.

Key Features:

• You can merge different clips, apply filters.
• It allows you to directly share videos on social media channels
• Create animated titles, add voice overs
• You can integrate music, sound effects, sub titles and ,many more
• Create slideshows, tilt-shift your videos, add stickers, etc.

Purchase Plans:

This app is completely free for all IOS and Android devices.
Vidyard

Vidyard is a powerful software that is used for video marketing which can turn your viewers into customers. It allows uploading, downloading videos and customization seamlessly. Vidyard measures the effectiveness of video & great compatibility with the browser for optimization.

Key Features:

• Adjust playback speed, create and manage events from one location, and make the video more relevant.
• You can use multiple accounts, multiple players
• Provides analytics data in one place with detailed reporting and insights.
• With Vidyard, you can easily create better CTAs, 360 videos for customers, and stunning 4K support.
• Video collaboration, secure hosting, syndication, popup call to action, etc.

Purchase Plans:

• Starter: For generating leads $150/month.
• Plus: For growing teams $850/month.
• Enterprise: For advanced teams (custom pricing).
Wideo

Create animated videos with Wideo. The software allows you to create animated videos easily and quickly. It also offers built-in templates with built-in tools, & rich libraries.

Key Features:

• It has a lot of built-in templates. You can design interfaces by drag and drop, and speed controls etc.
• It has spell check features, scene templates, video embedding, and folder management.
• It allows social media sharing including YoutTube.

Purchase Plans:

• Basic: $19/month.
• Pro: for teams $39/month.
• Enterprise: for larger teams $79/month.
Final Thoughts
Congratulations, if you have already incorporated video content into your marketing strategy. If not, now is the right time to create a video marketing strategy to scale your business.
There are enormous video marketing software to choose from. Make sure you choose the right tool that fits your requirements and budget. Video is a strong marketing tool and creating videos carefully and strategically will help you make the most of it.
Until next time, Be creative! - Pix'sTory made by Mariya
Mariya is an SEO consultant and she loves to write attention-grabbing content, when not writing you can find her playing her guitar.