Best Ways to Increase Subscribers and Views on YouTube
Written on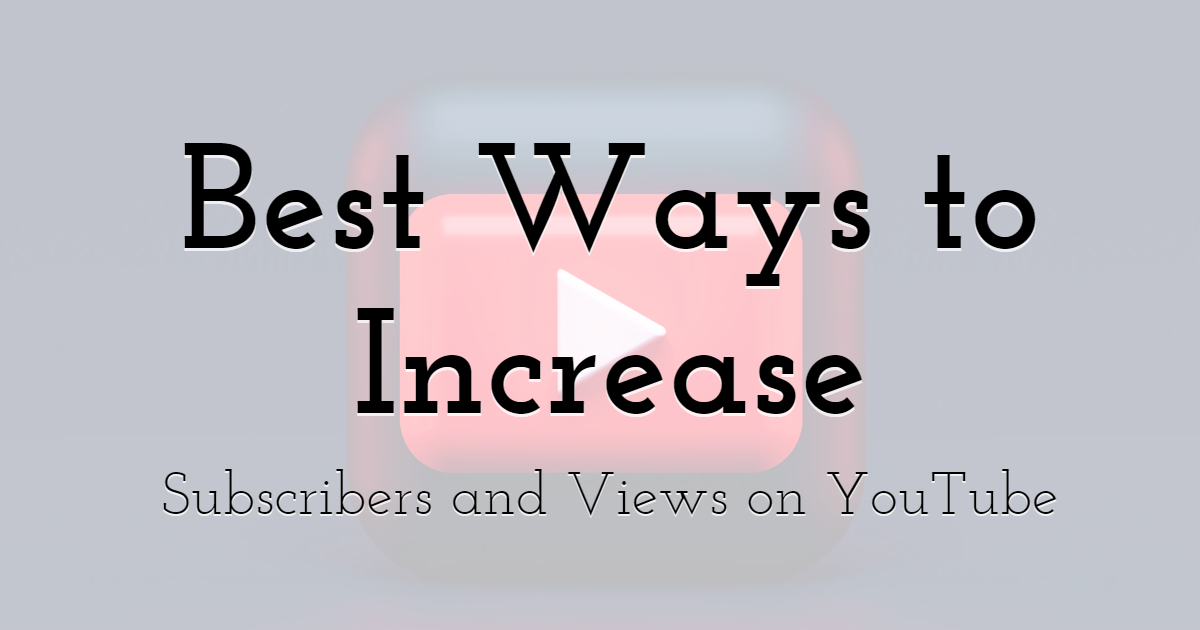 Design your own short videos with PixTeller animation editor & GIF maker
Every minute, more than 500 videos are uploaded to YouTube. With that much competition, you might have reckoned yourself out and accepted that getting enough YouTube subscribers isn't worth the effort.
For beginners, YouTube recently overtook the most global network (Facebook) as the second most-visited site on the web. The boom of video content has resulted in a flood of brands trying to master YouTube channel marketing for their quality items all at once.
And so, if you want to win the YouTube game, you need to take pro steps of as many promotional tactics as possible. Below I've broken down steps on how to promote your YouTube channel to maximize your viewership. Whether you're just getting started on YouTube's upwards journey, these tips are all fair game.
1. Use the Power of Playlists

Power playlists are like regular playlists but are the better form to promote your content. You can keep your playlists organized by topic. It is beneficial to understand the series of products you want to deliver to your customers.

Always make sure to have your playlist title as an example of the outcome. It makes people much more likely to watch your playlist and get to subscribe to the channel.
2. Make a Killer Channel Trailer

We all know that a channel trailer can help you get more YouTube subscribers. Here are three tactics for making a channel trailer that brings you more subscribers.

1. Kick-off everything you post with your unique tagline


2. Start-off your content's trailer with your channel's tagline


3. Stick to less than 60 seconds


4. Show off your best stuff.
3. Publish Long Videos

Yup, more than 10 minutes! It always goes against conventional wisdom. There are 11 factors to rank videos on a search engine, as per my knowledge, and extended video is one of the main reasons it ranks in the #1 spot in YouTube for the SEO. You can also notice that almost all YouTube videos are around 13 minutes, I can say.
4. Promote Videos in Your End Screen

Here's the trick! The more your videos are watched by someone, the more likely they are to subscribe to your channel. How will you get people to watch 3, 5, or even 10 of your videos? You can promote another video within the end screen of your video.

Here's how you can do this thing!

1. First, include 10 seconds at the end of your videos.
2. Finally, use YouTube's editor (end screen editor) to add a related video link.
5. Brand Your Watermark

What does it mean? Simply a subscribe button! It is the ultimate hack! You maybe know that you can add a branding watermark to all your videos. It lets viewers subscribe to your channel inside of your video. Branding watermark can generate 70% or more subscribers than your old viewers. Pretty cool.
6. Focus on Quality

Not quantity! You might have heard uploading videos regularly if you want to grow your channel. It is horrible! Try to change things up. Instead of quantity, focus 100% on your quality video making. And this quality over quantity trick for video marketing approach will work like magic for you.
7. Compelling Channel Description

Your YouTube channel description must be huge! Sadly, most channel descriptions are weak. Understand that weak description never attracts the viewers to come again and again. If you precisely describe your channel and what you offer, chances are you will attract viewers.

Plus point. You can also describe your video's schedule so viewers don't get frustrated while waiting for the next element series.
8. Reply to Every Comment You Get

Out of most straightforward ways to get more subscribers! To be straightforward, Between replying to comments and subscribers, YouTube's internal data has found a clear correlation. When creators interact with their local community, it can encourage audience participation and results in a larger fanbase.

Why does it support your fanbase? Well, most content creators never reply to viewers' comments, which means that you instantly stand out when you make replies.
9. Use an Awesome Channel Icon

Let's face it! Your icon shows up everywhere on your YouTube. It is like a custom thumbnail. For your entire channel, it's imperative to use the right visual. So if you're a personal brand, use a high-resolution headshot. Alternatively, you can use a version of your logo designed for YouTube.
10. Create a Channel Tagline

Fortunately, you don't need a degree to position and brand your youtube channel. In fact, you need to create a unique tagline. Here are simple ways:

1. Identify a thing that makes your channel unique. Maybe you're a busy writer that always writes to rank. Or maybe you are the promoter of the product from any reputable brand like the good guys.


2. Try to highlight the uniqueness in it.


3. Put out that tagline in big font on your channel art.


4. Finally, use your tagline in your channel trailer.


12. Promote Your Channel

You can promote your channel in webinars, ebooks, presentations, or even lead magnets. The next time you decide to promote your content, ask yourself: How can you funnel people from your content to your YouTube channel? You can include a link to my channel in every lead magnet. Or you share it on social media, right?
Final Thoughts
It's your turn now! I hope these promotional steps will help you out to get more subscribers on YouTube.
Until next time, Be creative! - Pix'sTory made by Ayesha Kalhoro
Ayesha Kalhoro is a keen content writer, currently works at Revounts. You can also call her a deal hunter because of her curious personality she digs out the most competent products and offers available in the town and dispatch to her readers so that everyone can get profited by the current propositions. She also focuses on incorporating diverse topics to keep her readers to keep them engaged, excited and always looks out for what more she can bring to the table.