Getting Started with PixTeller (FAQ)
Written on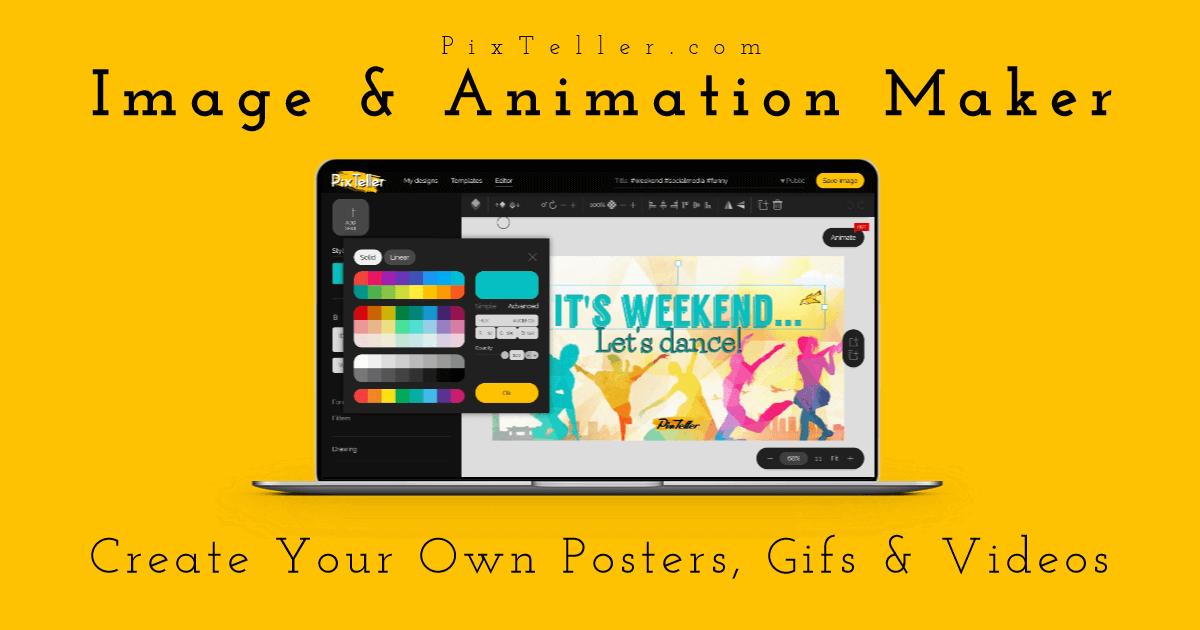 You can use the PixTeller editor & platform on any devices including mobile devices, directly from your browser. In order to use our PixTeller photo editor & animation maker, we recommend you to have:
- At least 512 MB of RAM;
- A web browser such as Internet Explorer version 9.0 or higher, Firefox 10.0 or higher, Safari 4.0 or higher, or Google Chrome 14.0 or higher;
- Microsoft Windows 7/8/10, Mac OS X or Linux, with a 1GHz processor or better;
- A screen resolution of 1024x768 pixels or higher is recommended to make it work easier;
- You must enable JavaScript in your web browser.
Does PixTeller work on mobile devices?
You can use the PixTeller platform (explore designs, download designs, share designs, search designs) on mobile devices directly from your browser. PixTeller graphic maker is not available on mobile devices.
Does PixTeller work on PC, MAC and Linux?
Yes, you can use PixTeller directly from your browser on any type of platforms or devices, including mobile devices.
Can I sell the images I have created with PixTeller?
All elements available on PixTeller are under Creative Commons Zero license. This means that you can copy, modify, distribute and use the designs for free, including for commercial purposes, without asking permission from or providing attribution to PixTeller, or third party service providers.
It is absolutely safe to copyright-wise a PixTeller creation, as long as this contains elements that you searched for on the design editor tool or was created using our templates.
Note: When using a public design or you upload a photo / graphic element / logo / icon / etc. from elsewhere, please double check if they are free of copyright protection.
Can I download PixTeller to my computer?
You cannot download the PixTeller app and you don't need to, as it can be accessed at anytime and from any modern browser. The only thing you need is access to the Internet.
Why use PixTeller instead of a regular design software?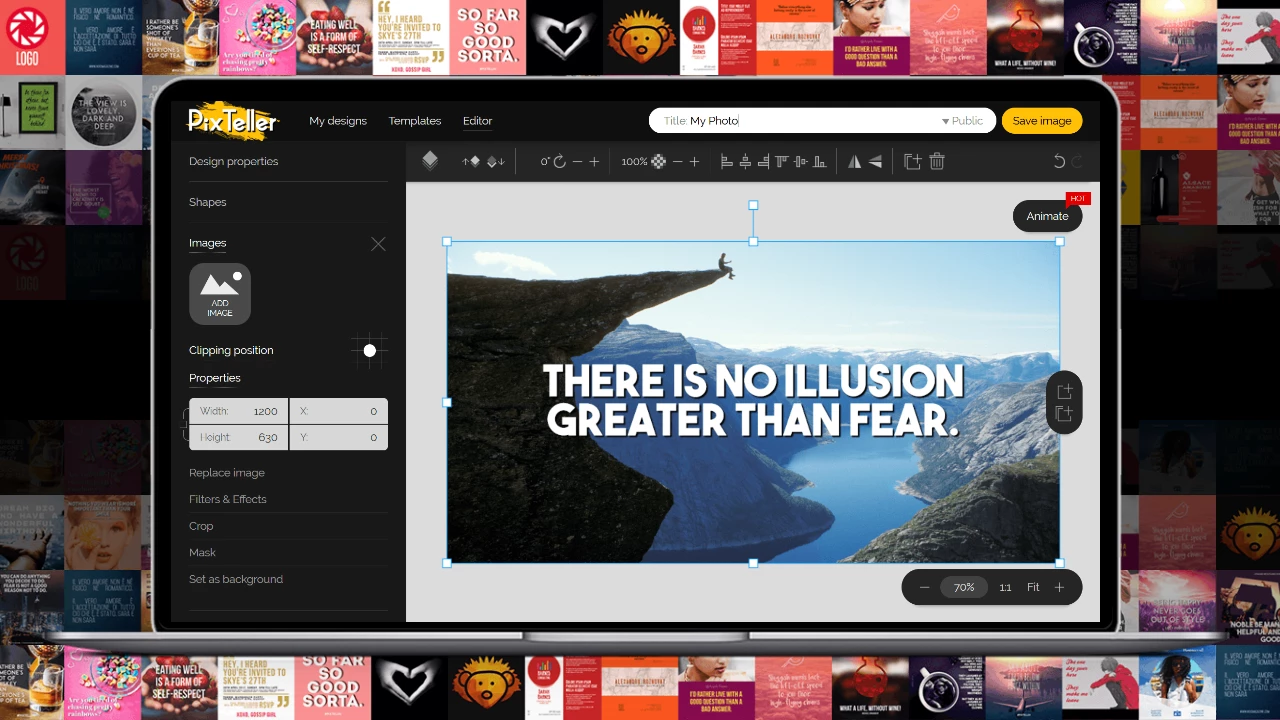 Why choosing PixTeller instead of other design app? Here are some specific benefits of using our product:
Time saving. - No software installation. You can design any image or create any animation you want directly from your browser, without using additional software to edit them.
Money saving. - You can use our app for free, or you can easily upgrade your account to Pro / Diamond at the lowest cost on the market and copyright your images. Just imagine how much money you can save by using PixTeller, instead of hiring a designer for business or commercial purposes. We can all agree that some designers charge too much and you can end up paying lots of money on designs that don't meet your expectations.
Easy to use. - The key features of our service combines our photo editor + animation maker performance, and easy to use functions. We have a great variety of templates and public graphic images that you can use to create your unique visual assets.
No technical or design skills. - Anyone can benefit from our product and service, either they have the technical and design skills or they don't, just by using and customizing any template or public design with PixTeller editor to create engaging images & video animatios, like social media graphics, animated GIFs, logos, photo collages, quote pictures, posters, banners, invitations, flyers, video thumbnails & more...
Fun. - Use funny quotes, pictures, the fonts and colours you want in order to customize your designs according to your preferences and needs.
Note: We are continuously working on improving our services and products, so that PixTeller will remain one of the most powerful design tools available online, as it is today.
What types of visual assets can I make on PixTeller?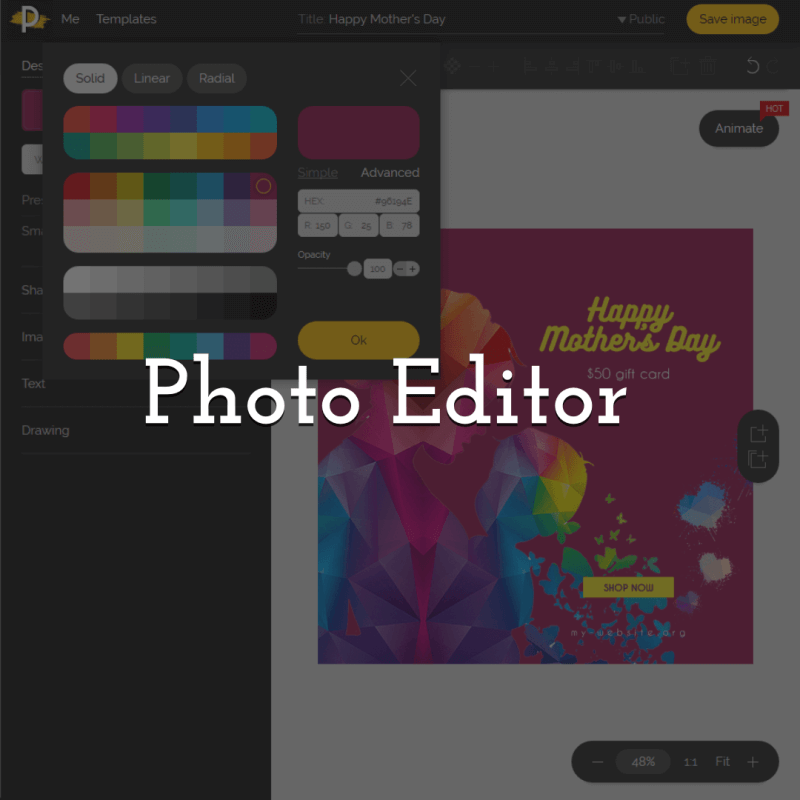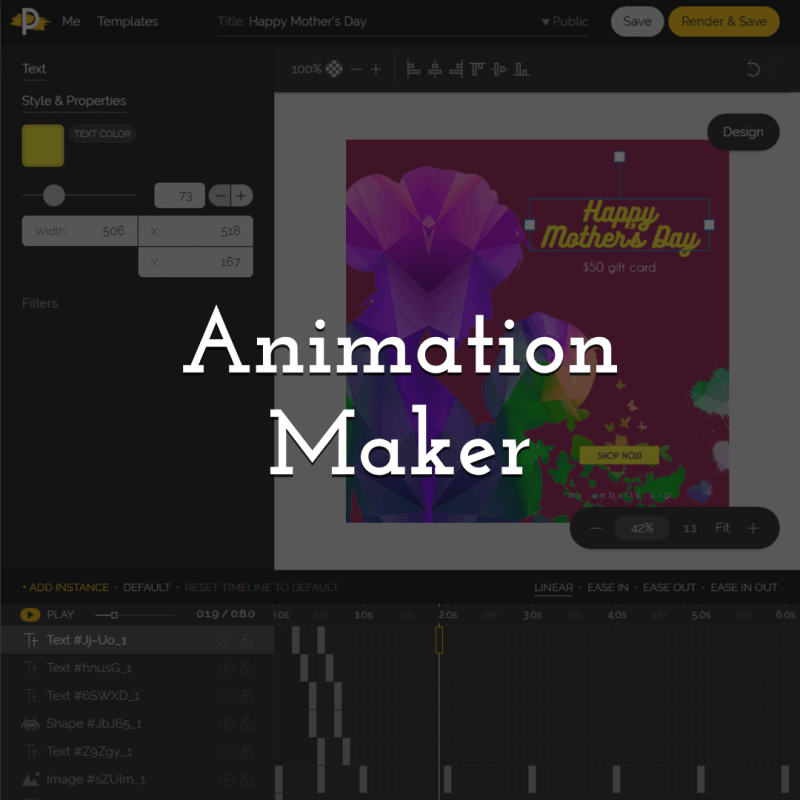 You can create any type of image design or short animation you want on PixTeller like:
Social Media Graphics, Animated GIFs, Logos, Photo Collages, Quote Pictures, Posters, Banners, Invitations, Flyers, Video Thumbnails & more...
PixTeller does not limit to the preset sizes. You can set any size you wish to your graphics & animations, depending on where these will be incorporated: websites, blogs, social media profiles or documents etc.
Do I need to create an account to use PixTeller?
Without a valid account, you cannot use PixTeller design editor tools and create your own visual assets. You need to register in order to save your photos, render animations, use or download them.
You can use PixTeller without an account and still benefit of the free features on our platform, like: explore or search designs.
Feel free to contact us anytime and we'll answer any additional questions you may have about our online design tools.