Inside the New PixTeller
Written on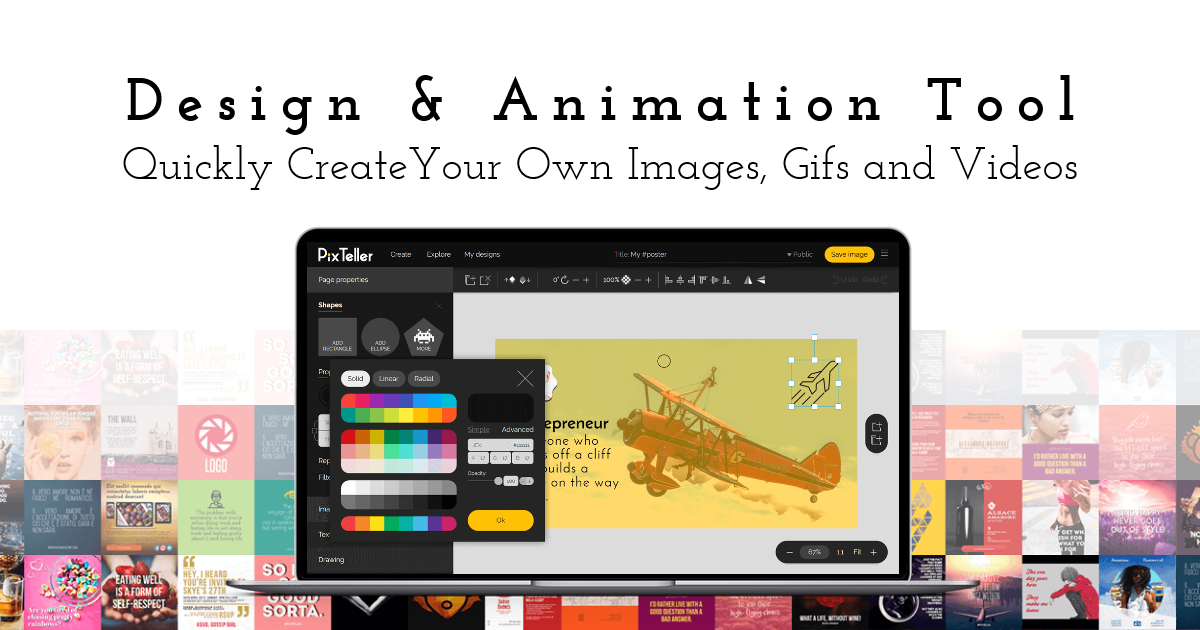 We made it! - After about 2 years, all the hard work and sacrifice paid off: the new version of PixTeller photo editor & animation maker is here.
In 2014 we launched the first version of PixTeller, which was a simple and limited graphic editor made with HTML5, CSS and JQuery for making posters & creating quote pictures / only 605 pixels width.
The lack of options and functionality of the Editor didn't stop people to visit and join our community, whilst creating beautiful quote pictures inspired by their real life experiences or dreams and wishes. We were amazed by the large number of people around the globe who were using our design tool (for free), creating thousands of images every day.
Just like "top students", we learned from our users and gathered as much information as we could in order to build a better community for them. By interacting with our users, we find out how they feel and what they expect from our service and how we can improve our service development. I think it's pretty clear that the feedback we got from our users has been crucial in developing the PixTeller design tool you use today!
Now let's see what we kept and what improvements have been made to the new PixTeller version.
So, what have we kept from the old PixTeller?
1. We first thought of keeping all the important data of our users, but because things on the new PixTeller platform are significantly different, we only managed to keep our users basic information and their public designs marked as hot by other PixTeller users.
2. It's true that some of our users weren't happy that the designs they made on the old platform have been deleted (private / public, but not marked as hot), even though they were advised to download them in time.
3. We preserved the simplicity (easy-to-use function) and made great improvements to our design processes, including the animated gif maker.
What has changed?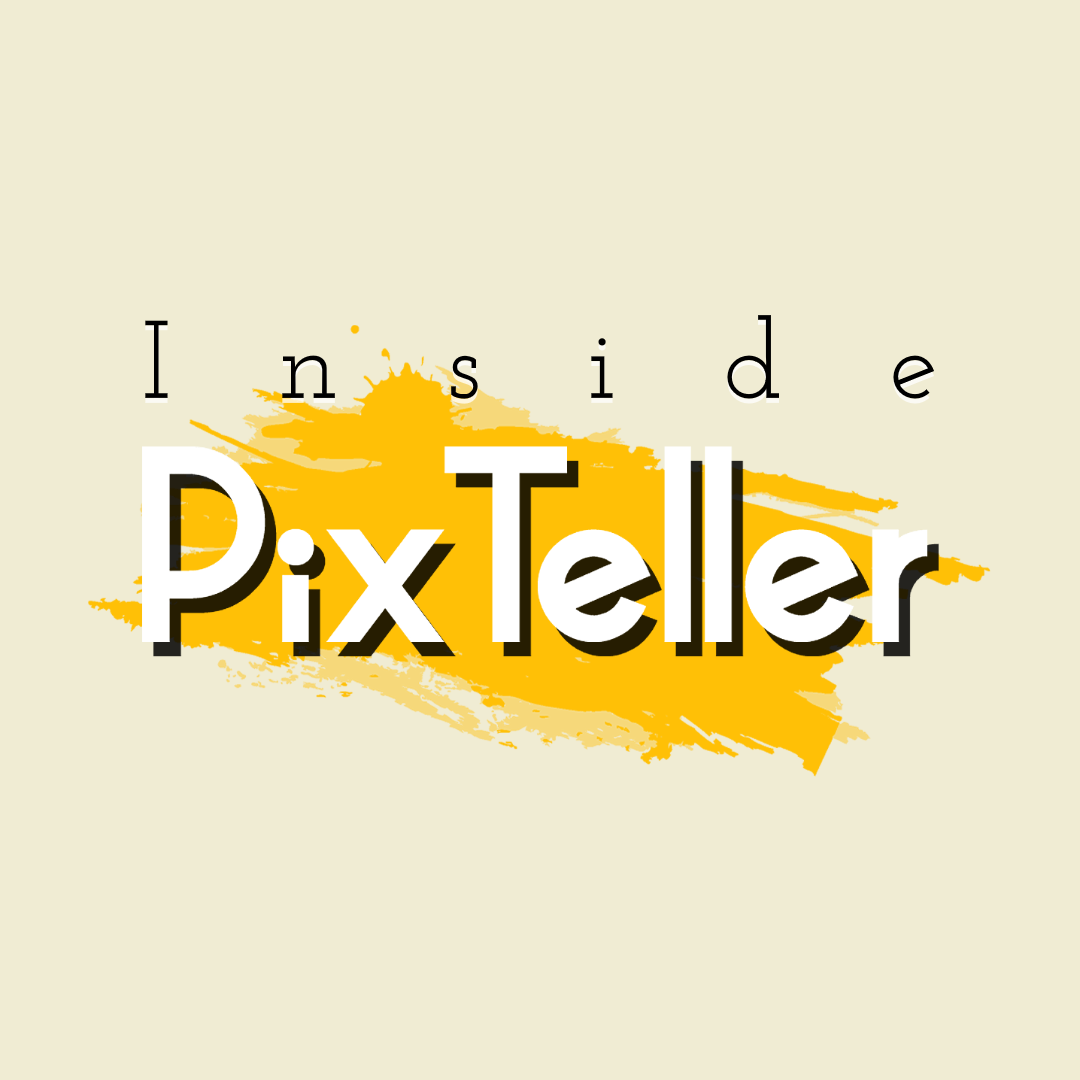 Tremendous changes from technology to the main photo & animation editor tool functions. What would you think if we told you that almost everything has changed? Check it out yourself what we improved:
Make any graphics & animations you want
I hope you're excited because you can choose from hundreds of free designer-made graphic templates. It's easy to use and customize to make your own Animations, Banners, Invitations, Flyers, Thumbnails, Cards, Slideshow, Posters & more with our practical online editor.
Page properties
1. Preset sizes - Easy to set standard dimension formats for Social media posts / Covers and Headers / Banners / Ready to print.
2. Page background (include transparency - unique function among online editors or easy to set gradient backgrounds).
3. Multi pages - You can create a great variety of designs like Presentations / Albums / Menus / Catalogs / 2 Side Images with as many pages as you want.
Shapes
1. Add regular shapes (rectangle / circle / triangle).
2. You can choose from over 100000 different free shapes that you can easily find on our graphic editor tool - Shapes section. Click on the Heart Shape for more shapes.
3. Set the preferred shape color -> one of the best color picker you can find available online. You can also set gradient colors (linear / radial).
4. Shape filters -> set border / shadow / skew / and more.
Photos & Graphics
1. Use our search option via Pixabay to find amazing photos to use on your designs or upload personal photos to your gallery.
2. Improved alignment / orientation for image enhancement and visual quality.
3. Innovative image resize that makes your designs look good at any size. When replacing images from our templates, this will make them fit perfectly to the pre-set sizes.
4. Simple image cropping that helps you select only what you think it's relevant for your designs.
5. Best image masking tool -> You can easily add masks to your images into the shape of an icon. PixTeller stands out with over 100000 shapes.
6. Image replace function -> replace any image of a design using a single button.
7. Add special effects to your images from the filters menu that can be found under the "Photos & Graphics" section. You'll get that fantastic look you were searching for!
Text
1. Want to add text to your designs? With PixTeller it's so easy that you have to try it! By clicking on the text input (textarea) that can be found in the right side of our Editor page, you will find a great variety of unique text properties like: 3D, Circle, Concave, Convex Mode and more.
2. Improved text alignment and size.
3. New free fonts easy to find and sort from the text input, from the Style options.
4. Text filters -> set border / shadow / skew / scale / text effects and more.
Drawing
1. Line tool -> draw lines.
2. Pencil tool -> free draw.
Grouping
1. You can easily group any shapes used in your design.
2. Align / Resize / apply Colors to the group elements with no damage to it.
New cool functions
1. Easily copy / delete any element from the top header menu.
2. Choose the element's position in the page.
3. Rotate.
4. Set opacity.
5. Horizontal-Vertical Element Alignment.
6. Horizontal-Vertical Flip.
7. Line guide to easily align / position / resize your elements.
8. Right Click / Keyboard Shortcuts Commands if you want to create faster.
Platform changes
1. Get ready to be amazed by our great collection of designer-made graphic templates to start from.
2. With the new layout you can view a large number of images, even if these are your personal designs, templates or public designs.
3. Improved filters to easily find the designs from the category you want.
4. We know that creativity is infinite, therefore, we offer you the possibility of using any public design to start (we have created a community like nowhere else, so that you don't limit to our templates).
5. Easily manage your designs using Filters.
6. Unlike the first version of PixTeller, the designs you set as "private" won't appear on google. You can easily move your designs from Public to Private and in reverse.
7. Check out our blog for more detailed information and in case you would like to contact us, please go to our contact page.
Business changes
1. As you might already know, PixTeller was totally free (no ads / no subscriptions). You can still use PixTeller for free. It's what you create really matters to you or to use in business.
2. We improved our platform in order to offer you the greatest online design tool. Please check our subscription plan in order to get a Pro / Diamond account for personal use or your business projects.
Our team does their best to make design better in all its details for everyone to use. We invite everyone who loves design to join our community, to unleash their imagination and create amazing graphics.
Got questions? - We're constantly changing and evolving, so if you're in for a more personalized experience and quick response, contact us. Good questions help us expand our understanding, as it can reveal issues that we might not have thought of before and this way, we can increase our standards and performance.
Until next time, Be creative! - Pix'sTory made by Alex