10 Best Free Professional Video Editing Tools Available Online You Must Try
Written on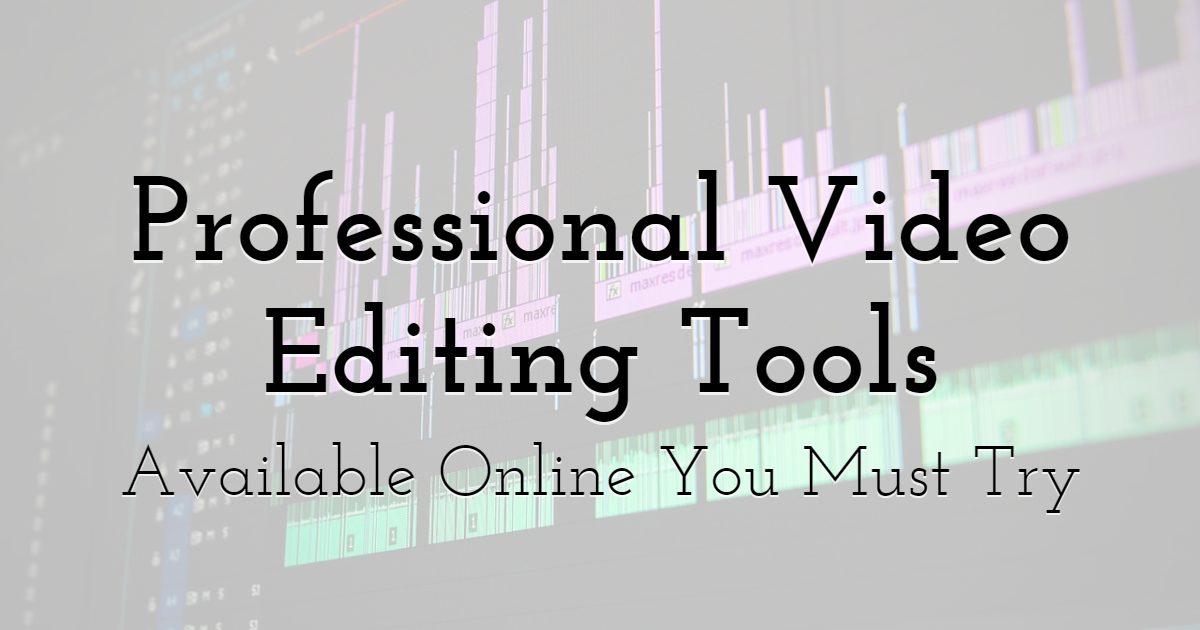 Design your own short videos with PixTeller animation editor & GIF maker
For any marketing expert, creating brand videos is one of the best ways to promote their brand. Videos have taken over the world of digital marketing. People love watching videos than reading a traditional block of text. And why won't they? A catchy and well-made video can help a person understand a brand well and also learn a lot about their products or services.
There is a reason why 74% of marketers have stated that videos offer a better ROI. Brands are heavily investing in software that helps them to create high-quality videos. If you are running a business, it is essential that you start creating marketing videos. A well-constructed video marketing campaign can take your business to a whole new level.
So, to help you in your endeavor to create great marketing videos, here are the ten best free professional video editing tools you should try.
Adobe Premiere Pro CC

One of the best video editing software ever made, Adobe Premiere Pro CC has taken video editing to a brand new level. It is pretty much the industry standard when it comes to video editing. This software offers an expansive video editing program that allows you to learn & know more about it. It has every feature that you will need to edit your videos. The interface is clear and flexible with a wide range of organizational tools. The speed is very responsive, and the stabilization of this software is very much reliable.
InVideo Editor

InVideo is a very good editing software when you are going to create brand new videos for your marketing campaigns. The online video editor allows you to make amazing intros, and you can also add different music or audio files to enhance your video. Use the multiple layers to add a new depth to your videos. You can also cut, copy or paste any clips you want.
PixTeller

If you want to use graphic templates to make the best-animated videos easily, then PixTeller can be your best option. They have a huge list of free design tools to create, share and download beautiful videos. It has the potential to add high-quality and eye-catching visuals, which highlights your brand quickly. You can get access to 100,000+ templates & 5000+ animations to give your videos a significant effect.
Pinnacle Studio

A fast and full-featured video editing software, Pinnacle Studio allows its users to flawlessly mask, tilt and stabilize their videos with a wide range of customizations. All of these features can help your videos to be more appealing and attractive. It will take you only a few hours to get familiar with the UI. Even after using tonnes of effects, you will see that the rendering speed is truly amazing. You can even edit 360°VR content with Pinnacle.
Nero Video

If you are on a budget and still want to create high-quality videos, then Nero Video offers a wide range of enthusiast-level editing features that are bound to help you out. Otherwise, it has a plethora of different video effects along with good audio tools. Nero Video can offer you different file format support that includes H.265. You can burn DVD, Blu-ray, and AVCHD files and also render 4K resolution videos easily.
Apple Final Cut Pro X

Apple's own video editing software is one of the best in the business. It can bring you great power that includes a simple interface and easy-to-use tools. You can even edit 360° videos with it and introduce improved stability with the software. The software is updated frequently, and that is why you can implement different resources. Some of the best features include libraries, ratings, tagging, auto analysis for faces, scenes, and support for 360-degree footage and HDR.
Wondershare's Filmora

A budget-friendly and professional app for editing videos, Filmora has a wonderful interface that is easy to use. You have access to a whole lot of effects and use the different features to cut, copy, paste, and add another video or audio clip. The software allows you to add good titles to your video to make them more attractive and recognizable. Use the Action Cam and Cutter Modes to edit your video in a more professional manner.
Magix Movie Edit Pro Premium

An editor that brings some really cool advanced effects, Magix Movie Edit can bring more usability and performance to the table. There are lots of video effects that you can use, and it also has a very responsive editing user interface. The use of the Multicam feature can add a whole new layer of depth to your videos. The trailer-like movie templates can help your video to become more attractive and appealing to the audience.
CyberLink PowerDirector 365

For anyone who wants to have a lot of professional and very high-quality features on the table, this software is easily one of the best in business. It has been awarded as one of the best video editing software that is rich in features. It has both Windows and Mac OS support. Some of the top features include Multi-cam editing, 360-degree video, motion tracking, etc. The 100 track timeline is also a fantastic feature to use for stabilization & video correction needs.
KineMaster

KineMaster is the final product on this list, and it comes with great features in spite of being a budget-oriented software. It can be an absolute delight for professionals. However, the rendering speed is better in most other software we have talked about. It has a smart and intuitive user interface that is both lag-free and creative. You can edit multiple layers, add handwriting and text annotations.
Final Thoughts
So, these are the top 10 professional video editing tools that you can use if you are planning to make fantastic marketing videos. Each of these software solutions is readily available in the market, and you can get easy access to them right now. Check out the respective website to find out the pricing for the premium versions.
Until next time, Be creative! - Pix'sTory made by Karina Zhdanova