8 Social Media Automation Tools That Will Boost Your Traffic
Written on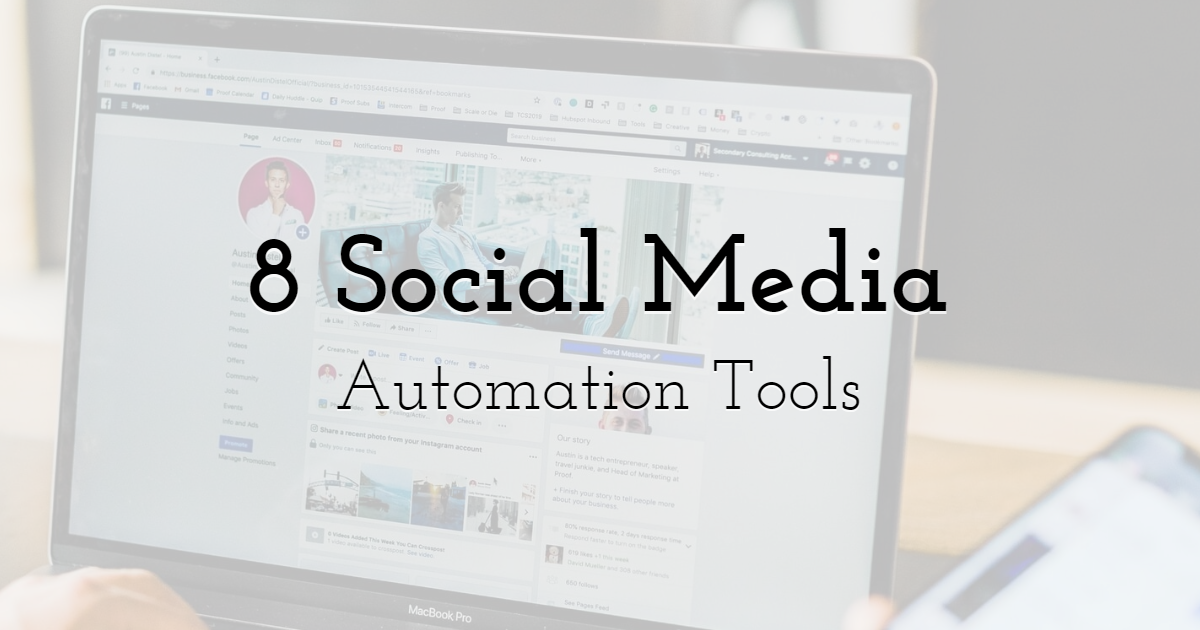 Create your own images & animated gifs with PixTeller animation editor & GIF maker
Running a thriving business in today's world takes a lot of time. But sometimes, it's good to remember the golden rule of chasing success. Work smarter, not harder.
Digital marketing automation is one of the best ways to boost traffic as well as save time and money without endangering the results of your campaigns. Thanks to numerous software solutions, businesses can set up social media campaigns to work on their own, therefore freeing up precious resources for strategy planning, asset production, product development, and customer support.
But here's the deal. There's a variety of social media automation tools. And not all of them deliver the results they promise. So, if you're interested in making your job easier without having to wander in the dark, the following are the top apps you should consider incorporating into your online presence.
1. Buffer

When it comes to social media automation, very few tools get as good of a rep as Buffer. Simple, intuitive, versatile, and with a free version, it's the perfect choice for small businesses that need a scheduling tool that works.

The best part about this software is the fact that it has a stories planner, first comment, hashtag planner, and shop grid feature. Nonetheless, you shouldn't disregard the analytics tool either.

The Pro version of Buffer Publish starts at $15/month, with the option to downgrade to a basic free plan that allows three social channels, ten scheduled posts, and one user. The Analyze costs significantly more at $34/month.
Hootsuite

As the most popular alternative to Buffer, Hootsuite is another automation tool well-worth checking out. Its main advantage is the fact that it integrates with a large number of social networks (Twitter, Facebook, YouTube, LinkedIn, Instagram, WordPress, Tumblr, MailChimp, etc.).

However, one should not forget to mention that Hootsuite puts a strong emphasis on engagement, either. Not only does it include monitoring capabilities, but it also has a single inbox for all your channels, integrates with chatbots, and is compatible with CRM tools like Salesforce and Zendesk. It also has a handy reputation tracking option, which is a much-needed add-on for anyone in e-commerce.

Cost-wise, it starts at $19/month, but it also includes a limited free version that's similar to what Buffer is offering.
3. Zapier

While scheduling tools work great for social media, they're far from the only option. Business owners looking for increased website traffic can try out Zapier, one of the most powerful automation tools available.

Essentially, Zapier is a collection of millions of workflows, which integrate with 2,000+ CRM, email, marketing, and productivity apps. One of the best things about it is that it includes numerous templates for beginners. Still, advanced users can also make their own, which makes for endless possibilities over many company roles.

The automation tool can be used free with 100 tasks per month, while paid plans start at $19.99/month, which includes 20 Zaps (formulas) and 3 Premium Apps.
4. IFTTT

Want a powerful automation tool but don't have the budget? Well, with IFTTT, you can create your own applets for a small price.

In fact, the standard version of IFTTT allows you to create three applets and use unlimited formulas made by others. If, however, you want unrestricted reign over your business processes, you can subscribe to the Pro version for just $3.99/month, a sum considerably cheaper than all the other software options mentioned in this article.

If you decide to go with this option, however, don't forget that it does require some coding capabilities. So, you might find it more time and energy-efficient to just pay for Zapier.
5. Missinglettr

Consider the effort that goes into producing blog posts, videos, or visual assets. Seeing how time-consuming these actions are, it comes as no surprise that you want to make the absolute most of them. And that may require you to create drip campaigns.

This is what Missinglettr does. It allows you to create campaigns that gradually drip content out over a full year, allowing you to boost website traffic and maximize the impact of your work. It's compatible with Facebook, Twitter, and LinkedIn, and it's an affordable choice for most businesses with a limited free plan and Solo plans starting at $9/month.
6. SproutSocial

If what you're looking for is a solution that'll benefit your business by facilitating consumer connections, then SproutSocial is definitely a tool to check out.

It's a 4-in-1 solution that includes listening, publishing, engagement, and analytics functionalities. It can be used for B2B social media automatization, and, if you combine it with LinkedIn-specific apps for list building and lead generation, you can easily reach and engage with the right audience for your brand.

What's important to keep in mind is that SproutSocial makes for one of the most expensive tools on this list, starting at $99/user/month.
7. Mention

While most of the tools on this list serve to boost website traffic, Mention works to supervise what's being said about your brand. And that's equally important. Not only does it allow you to keep an eye on conversations, but it also gives you the chance to oversee press articles, reviews, forums, blogs, and, of course, social media.

Moreover, it also has a publish function, so you don't have to purchase more than a single tool. The pricing starts at $25/month. However, there is one downside, which is that Facebook mentions can only be followed with the $450+/month option.
8. SEMrush

Last but not least, if you want a solution that'll offer a holistic approach to traffic improvement through social media automation, SEMrush is definitely worth considering.

As one of the most powerful pieces of software you can find, it offers multiple functionalities, including SEO and advertising tools, as well as social media, content marketing, and competitive research tools.

If you're interested in doing the absolute most for your brand through research, automation, and optimization with SEMrush, you'll have to shell out $99/month, which isn't exactly a small sum. But, at least you'll get access to a tool that solves a variety of problems and has the most significant potential of boosting your traffic and conversions.
Final Words
Of course, there are numerous other social media automation tools you can start using right away. If you run a highly visual business, then definitely check out Tailwind, which offers one of the best Pinterest integrations out there. If, however, you're most concerned with sharing your content over several platforms at once and reaping the benefits of increased traffic, then even something as simple as Dlvr. It can work.
The main thing about implementing these automation tools in your workflow is that you give yourself enough time for the onboarding process, as well as that you make the most use out of each tool's resources section. This way, you'll have a clear idea of whether a solution works for you or if you require something slightly different.
Until next time, Be creative! - Pix'sTory made by Sarah Kaminski